Residents can rate NH storm response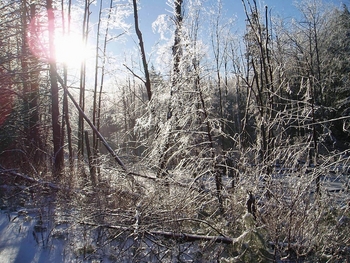 NASHUA – There were plenty of complaints in the days and weeks following the December ice storm. Now is the time to be heard.
State officials have announced the dates and locations of four public input sessions designed for residents to tell state regulators how public utility and government responses in such emergencies can be improved.
The state Public Utilities Commission and the state Division of Homeland Security and Emergency Management are holding the sessions as part of their review of government and utility responses to the ice storm, according to PUC executive director Debra Howland.
The sessions will be held in March and April in Salem, Peterborough, Raymond and Exeter. More sessions will be held later in April, according to the commission, but they haven't been scheduled.
If you Go:
In a related move, the state Department of Safety and the Federal Emergency Management Agency announced this week that New Hampshire cities and towns have received more than $1.2 million in federal aid since the state was declared a disaster area Jan. 2. That amount is at least 75 percent of communities' costs, according to a release, and the remainder is split between towns and the state.
The storm devastated power grids through a huge swath of the state Dec. 11 and left an estimated 400,000 customers without power, a few for as long as three weeks. About 80 percent of those customers – around 322,000, including more than 15,000 in Nashua – were PSNH customers.
The company spent about $75 million repairing its grid and returning power to its customers, according to a report that the company issued this month.
In addition to the public input sessions, customers can submit comments to the PUC on its Web site, www.puc.nh.gov, by calling 1-800-852-3793 or 271-2431, or by writing to 21 S. Fruit St., Suite 10, Concord, N.H., 03301.