Repair issues frustrate wheelchair-bound tenant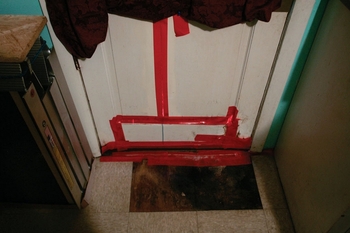 NASHUA – Facing the reality that he would soon be using a wheelchair, John Perrault breathed a sigh of relief in September 2007 thinking that he and his wife, Bonnie, had found a solution to the problem it posed: obtaining a ground-floor city apartment that was affordable and pet-friendly.
Although the 24 Summer St. apartment wasn't in good condition when they first saw it that month, landlord Kevin Monaco swore that he was going to fix all the issues, the Perraults said.
He would repair the broken oven, heater, and the large hole in the dining room wall that was soggy from a roof leak and harbored mold, they said.
Monaco assured the Perraults that the unit would be ready to pass a federal housing inspection so that they could receive the Section 8 housing assistance they so desperately needed and for which they had been waiting for more than four years, they said.
Monaco also knew that John Perrault was getting a wheelchair, the couple said, and he told them he would provide a ramp for the back door of the residence, they said.
Today, the Perraults are sorry they ever trusted Monaco, who they say never made an attempt to fix a thing. In fact, it wasn't until after July 31, when they wrote him a letter stating they had reported the problems to city code enforcement officials, that they said Monaco finally made an effort to respond to their repeated complaints.
By then, Bonnie Perrault had spent the year's first snowy morning shoveling snow out of the kitchen, where she said it had blown in under the broken back door. After her complaints to Monaco weren't answered, she said she resorted to using duct tape and newspaper to tape off the door and seal the gaps. She said she did the same for the moldy hole in the wall.
The apartment had also failed a federal housing inspection by then, causing the Perraults to have to ask for an extension on their chance at Section 8 assistance.
The biggest insult, though, according to the Perraults, was that despite a federal law that states landlords must provide access for disabled tenants, Monaco refused to provide a wheelchair ramp.
When Perrault – who has a heart condition and suffers seizures – finally got a charity to buy him a ramp, he found it useless because the threshold on the back door was so rotted, it couldn't support the ramp.
"I have been stuck in this apartment since I moved in," John Perrault wrote in his July 31 letter to Monaco.
"And now that I have been able to get out and around in my chair, I'm finding myself still stuck, even after having to buy myself a ramp to get myself out."
The Perraults said Monaco responded to their letter by starting eviction procedures, a violation of the state law and city ordinance that forbids retaliation against tenants who file formal complaints with city code officials.
Prior to the first court date filed in the case, newly hired code enforcement officer Kyle Metcalf inspected the Perraults' apartment, writing a letter to Monaco ordering him to fix five housing code violations that included the hole in the dining room wall and the broken oven.
At Nashua District Court on Sept. 16, one of four contentious court hearings that the Perraults and Monaco have attended since July, Judge Thomas Moore ordered Monaco to fix the apartment.
"This has to be done," Moore told Monaco.
'Deficiencies,' not 'violations'
Taking a seat on a wooden bench outside the courtroom after the hearing, Monaco said the Perraults' claim that he had neglected to fix their apartment for 10 months was "a crock."
"They are making it out to seem as though there are violations," Monaco said. "There are no violations. It is deficiencies. There's a big difference."
Monaco, a Brookline resident and landlord for about 20 years, said he decided to help the Perraults in late September 2007 when he found them living in a car on his property, a claim the Perraults deny.
The unit needed painting and window screens at that time, something John Perrault had offered to do if he and his wife could move in a week early, Monaco said.
While admitting that the dining room wall was soggy from a roof leak at the time the Perraults moved in, Monaco claimed that John Perrault "pushed" the hole into the wall.
Finally, Monaco said he didn't know that Perrault was going to get a wheelchair, and at no time did he say he would supply them with a ramp.
"He got that wheelchair because somebody donated it," Monaco said, expressing doubt at Perrault's disability status.
Furthermore, the ramp damaged his building, he said.
"They are taking that, and it is an older apartment building with a 30-inch-wide door that is not handicapped accessible," Monaco said.
"Is there rot under it? Oh, yeah, there probably is. But has that exaggerated the damage? Definitely."
When asked if he knew there was a federal law that required him to provide such access for disabled tenants, Monaco shook his head.
"No, no, but I don't feel . . ." he said before stopping the sentence short and continuing.
"You know what? Don't make me out as a bad guy. I have tenants that I would bend over backwards for them, but this is not one to go to defense for. This is one that is milking the system, and they are doing it in such a good manner that it really peeves me off."
Earlier, during the hearing in front of Moore, Monaco claimed that besides not paying him rent since July, the Perraults had stopped him from doing the repairs demanded by code enforcement and for which Moore had previously given him three days to complete.
Although he had managed to fix the loose electrical outlets in the bedrooms, Bonnie Perrault had interfered when he tried to fix the hole in the wall, Monaco said, and John Perrault wouldn't stop yelling at him while he was trying to work.
The hearing wrapped up with Moore ordering a Nashua police officer to be present at the residence when Monaco made repairs at the apartment on Sept. 25, 26 and 29.
After the hearing, Monaco said he was disgusted with the judge's ruling.
"I would advise anybody, if they wanted to be a landlord, to take up a hobby of banging their head against a wall," he said, "because it is the same thing."
'This building is not level'
While Monaco's lament is familiar among city landlords, his record of not taking care of repairs in a timely fashion is also familiar, at least to members of the city's code department.
In April 2003, a refrigerator with the door still on and tires piled up around the Summer Street building got the ire of neighbors, who eventually called the city code department and complained.
City code enforcement inspector Nelson Ortega, then working under department head Laura Games, wrote Monaco a letter at that time, explaining that the refrigerator was a life-safety issue and asking him to clean up the yard within 15 days.
When Monaco failed to respond to the order, Ortega and the city's code team – which includes members of the city fire, police and health departments – conducted a top-down inspection of the two occupied units in the building's four apartments, documenting 37 violations that included ill-fitting windows, missing interior doors, toilets not properly bolted to the floor and missing or broken smoke-detection devices.
The team also noted that the building seemed to have serious structural problems, floors that were slanted and supporting structural members with evidence of deterioration.
In a letter to Monaco documenting their telephone conversation the day after the inspection, Ortega issued the first of what would become many stern warnings to Monaco from code, fire and other officials.
"You continue to have both housing code and life-safety code violations," Ortega wrote.
"I have indicated that you have 15 days to abate these violations. If this office sees no attempt to comply, I will commence the condemnation process without further notification."
Ortega also sent a warning of violation letter to Monaco, giving him 15 days to have a structural engineer inspect the structure and supply the engineer's written report to the code office, as well as a time schedule to comply with the requirements of the engineering report.
But despite the warnings, Monaco still didn't make the needed repairs. As a result, code department supervisor Games wrote Monaco, informing him that the case had been turned over to her for prosecution. She informed Monaco at that time that he had "one additional chance" to abate the violations or face proceedings in district court.
The situation didn't get much better as the months wore on, according to numerous documents filed in the city building department.
Games accompanied Ortega on one of several more inspections, documenting open electrical splices within the suspended ceiling in one unit and a rotten and unsafe bathroom floor, among other violations.
But the main concern, she wrote in her report, were the structural issues.
"This building is not level," she wrote.
"The fact that doors and windows do not fit or close properly demonstrates that the building's position has shifted. Although we were not able to inspect the basement, past photographs show that the house is being supported on one side by temporary jacks that have apparently been there for some time. Their reliability and effectiveness, as well as the building's structural integrity, is very questionable.
"It is our opinion that this building may not be fit for human habitation and is condemnable."
Despite the repeated concerns documented in letters to Monaco from various city officials, Monaco continued to drag his feet, and by mid-July, both Ortega and a Nashua fire inspector had filed criminal complaints in Nashua District Court – three for code violations and six for life-safety code violations.
"I have been attempting to communicate with you as to your intentions to correct hazards and violations to your rental property," Nashua fire inspector Brian Donaldson wrote to Monaco. "The tenants are living in a building in which you have failed to provide minimum fire safety."
Then in October – seven months after the code team conducted their first inspection of the building – Nashua structural engineer George Fallet inspected the building, submitting a report to code officials that noted several major structural weaknesses, including temporary supports and "notched joist connections," several of which had failed. More problems were found in the bedrooms.
"That the slanting floor surface in the room spaces presents awkward living conditions was quite obvious," Fallet, a former city building department employee and engineer of more than 40 years, wrote in his report.
"More importantly, however, it is the nature and magnitude of the settlement and the uncertain detrimental effect upon the structural integrity of the framework that makes this dwelling unsuitable for occupancy."
Differences of opinion
Although it may have seemed as though city officials were of one mind in their efforts to resolve the problems in Monaco's 24-26 Summer St. building or have it condemned, in fact, the situation behind the scene wasn't so unified.
In mid-October 2003, when Games decided to send Fallet's report to Monaco, giving him yet more time and three options on how to tackle the problems in his building, Ortega took his concerns to city Risk Manager Sue Jeffrey.
Jeffery immediately sent an e-mail to Games stating her concerns about liability to the city in light of the structural engineer's report.
"It is obvious this gentleman is not cooperating and this issue has been going on since April," Jeffrey wrote. "It is also obvious from reading the engineering reports that this is a pretty dangerous situation.
"My assumption is that the units are occupied. If they are, then why are we continuing to go back and forth with Mr. Monaco? . . . From a liability standpoint, if something were to happen over there, and we had knowledge about a dangerous situation and didn't force evacuation of this building, then we could have a serous problem."
Jeffery's e-mail was copied to Ortega, Donaldson, Deputy City Attorney Stephen Bennett, city health officer Michael Tremblay, Building Department manager Michael Santa, city assessor Angelo Marino and Community Development Division director Kathy Hersh.
"All appropriate agencies have knowledge of this unfortunate situation," Jeffery wrote. "We cannot allow people to live in these dangerous conditions and do nothing about it."
Bennett, who had been working on the case with Games, replied to Jeffery in an e-mail that Monaco had "promptly" corrected the life-safety violations that Donaldson had noted, omitting the fact that Donaldson had to file criminal complaints in district court to get Monaco to do so.
Bennett wrote that the extent of the problems listed in Fallet's report were "only recently known," and that even then, it wasn't clear to what extent the structural integrity of the framework had been affected.
"A court would not necessarily grant a request to condemn a building and evict the tenants based on this report," Bennett wrote. "I understand your concern that the city might be exposed to liability. However, it is not clear that municipalities assume (create) liability by establishing codes and enforcing them."
Shortly after the e-mail exchange, Fallet wrote a letter to the city and Monaco, detailing the structural repairs needed. The repairs included leveling of the floors, removal of temporary shoring in the basement, strengthening the first-floor system and reconstruction of the roof because of undersized rafters.
Fallet also recommended the tenants be relocated while the repairs were made.
While some city officials had been threatening to vacate and condemn the building for nearly eight months, Bennett appeared to be the one putting the brakes on the measure, writing to Games, Hersh, Ortega and Santa that the city had to show that the building was in imminent danger of failure or collapse in order to do so.
"Does that mean we cannot condemn the building tomorrow even if (Monaco) does not come in with a plan today?" Hersh asked Bennett in her reply to his e-mail.
"It means that we don't appear to have sufficient evidence at this time for (Santa) to make a determination that the building should be vacated," Bennett replied.
In another e-mail on the same day, Games wrote Bennett's boss, David Connell, asking if Connell had communicated with then-Mayor Bernie Streeter, who she said wanted the building placarded "unsafe."
"Did you find anything that lets us post the property as 'unsafe?' " Connell asked. "If not, I'll tell the mayor it would be a no-no."
Despite Fallet's earlier statements that the building was unsuitable for occupancy or Ortega's assertion that Fallet was ready to write a letter stating it was in imminent danger of collapse, Games said Fallet had recently told Santa it wasn't an imminent hazard to health and safety.
"I think the real issue is that the tenants need something stating that they have to vacate the building so that they can go to the top of the welfare/housing list," Games wrote, adding that she could provide them with copies of her letter to Monaco, as well as the structural engineer's report.
"It is public information. What do you think?" Games asked Connell.
Connell replied, "I don't agree that those letters are public documents. Giving those to the tenants or telling them what the engineer's opinion is . . . can still expose the city to liability.
"I suggest that we not get involved with the tenants, particularly in light of (Santa's) recent conversation with the engineer."
Two weeks later, Ortega, frustrated that the city wasn't taking more aggressive action against Monaco, sent an e-mail to Games stating he was pulling himself off the case, only to take it back a short time after.
Politics came to a boiling point shortly afterward during a meeting about the condemnation procedure with Streeter, which, Ortega said, was attended by Games, Hersh, Bennett, Santa and a few others.
Bennett argued that the city couldn't condemn the building under the city's old law, Ortega said, adding that the same law had been used for years.
The insinuation was also made that the issue was personal between Ortega and Monaco, Ortega said.
After the meeting, Ortega said Games tried to give him a letter stating that he couldn't be on Monaco's property.
"I said, 'You don't think I am going to grieve that?' " Ortega said he told Games, who he said eventually tore up the letter and verbally restricted him from being on the property.
"That incident, for me, was one of the most disillusioning," Ortega said.
"You should have seen everyone's faces," Ortega said, describing the reaction of other code team members to the news of what happened at the meeting.
"We had the police, we had the health department there, we had a structural engineer's report. And when I was overridden like that. . . . But, you know what, it is all on the record."
Which is exactly right. Records show Monaco obtained a building permit to make the structural repairs Fallet had suggested. A December 2003 inspection showed he had managed to repair the foundation issues, but not the roof issues, Games wrote at that time.
Again, Games gave Monaco a deadline to make the repairs and submit certification from a structural engineer stating that the building was safe to occupy.
"Or we will have no choice but to order your building vacated," Games warned.
On Jan. 26, 2004, Bennett dropped all the criminal charges against Monaco for code and life-safety violations. A week later, Games gave Monaco another 30-day deadline to get the roof fixed.
Nearly a 10 months later, in early November 2004, Games again threatened Monaco with condemnation procedures, this time for not getting a structural engineer to inspect and certify the repairs he claimed he had done.
A week later, the sole occupant of Monaco's building called code enforcement, reporting housing code issues. Ortega and a fellow code department inspector responded, documenting 10 violations that included an unsecured toilet that was leaking sewage onto the floor, improper wiring and an electrical junction box in the cellar that exceeded its rating.
It was also discovered at that time that the structural repairs were still not finished. In December 2004, Games again granted Monaco a two-week extension for structural repairs and ordered him to obtain an after-the-fact electrical permit and have a licensed electrician redo his electrical work.
The last document on file, a June 30, 2005, letter from Games to Monaco, states that he still had outstanding code and building code violations at his property.
Games noted that Monaco had obtained a building permit and made repairs, but once again stated that the repairs needed to be inspected by a structural engineer as Santa had ordered in 2003 when he signed off on Monaco's building permit.
The letter also stated that Monaco still hadn't had the electrical work in the basement redone. She sent him an electrical permit and gave him two more weeks to do so.
"I hope that we can expect your cooperation with these matters," Games wrote.
'Fallen down on the job'
When Perrault asked for the file for 24-26 Summer St. at the city code department in July, she expected to see some history at the building, but not the thick bundle of paper the clerk handed her.
"We were being patient," Bonnie Perrault said of why they lived with the conditions for 10 months before going to the code department for help.
"We were being very patient."
Inside the file, Perrault sifted through the structural engineer's report and learned the issue was still unresolved, as Monaco had never had the building inspected by a structural engineer, as ordered.
She also found copies of violation warnings issued to Monaco in 1998 citing him for having windows that didn't fit their frames, the same violation for which the code inspectors wrote him up in 2003, and a problem they had lived with all winter in the apartment – half of which didn't have a functioning heating system.
"I felt the city had fallen down on the job," Perrault said of the revelations.
Hersh, the Community Development Division director, said she, too, was surprised to see the Summer Street building still appeared to be in violation for the structural repairs.
Hersh blamed part of the problem on understaffing issues with which the department had been struggling for years, as well as the transferring of the old computer system to the current City View system.
Hersh said the problem was that Monaco had obtained the building permit under the old system, which didn't register on the newer system.
"It is on the hot sheet now," she said.
However, with Monaco now ordered to make repairs, the Perraults say they're hoping the city will follow through this time.
Ortega, now supervisor of a four-person code department, scheduled the building for a top-down inspection last Friday.
"I can tell you this," Ortega said. "By the end of the year, that building will either be repaired or condemned."