Renters, landlords both feel the pinch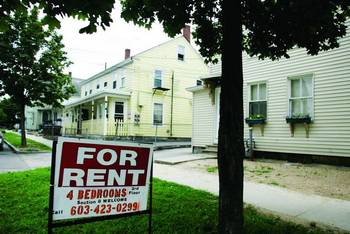 NASHUA – There are two sides of the coin when it comes to sizing up the cost of renting an apartment or house in Nashua.
Housing experts say the city needs more units that are affordable for the large group of people making less than the area's median household income of $87,000. But landlords say rental prices are already lower than they should be, given the rising costs of energy and maintenance.
Bill Ray, director of public policy for New Hampshire Finance Authority, thinks there's truth to both.
"It's not a good market for the landlords at this time," Ray said. "At the same time it's difficult for landlords, it isn't getting any easier for tenants."
Even though vacancy rates are relatively low in Nashua, which typically creates the kind of demand that drives up prices, landlords can't raise rents because tenant wages have been flat for five years, he said.
"The incomes won't support it," Ray said. "That's part of the reason why you see landlords talking about not being about to raise the rent and people with lower incomes talking about not being able to find affordable housing."
The average monthly price of two-bedroom rental unit in Nashua, including utilities, is $1,124, according to the latest state authority figures. That's just $1 more than last year's average.
To comfortably afford that $1,124, a family would need to bring in about $3,747 a month, or nearly $45,000 a year. A housing payment equal to 30 percent or less of total income is widely considered a reasonable standard.
The appearance of a slight increase this year could be deceiving. Landlords who pick up some or all of the utility costs are spending more money for things like heat and electricity, so they could be taking in less money overall, if not actually dropping rent prices.
"Rents are coming down everywhere," said Don Buja, a landlord who owns three rental properties in Nashua. "There's an abundance of housing. Times get tough, so people move home to mother or double up."
At one of his places on Canal Street, Buja had to drop the rent from $900 to $800 this year, he said.
The vacancy rate in Nashua is currently 4 percent, which is not considered high, Ray said. But landlords are feeling the pinch because the vacancy rate was 2.4 percent last year and close to zero a few years back.
A low vacancy rate favors landlords, because the fewer empty units on the market, the higher the demand for properties and the more landlords can charge. Ray said a 5 percent vacancy rate is typically the point where the pendulum swings from a landlord's market to a renter's. But neither seems to be getting ahead in the current market, he said.
Bridget Belton-Jette, executive director of Neighborhood Housing Services of Greater Nashua, said the city has plenty of housing for people at higher income levels. But there's not enough for people in lower income brackets.
Federal housing authorities have set the area's median income for a family of four at $87,400 this year, she said. So what's needed are units affordable to households with a combined income of $26,220 to $52,440, or between 30 percent and 60 percent of the median income.
There are few rental units available to those making 50 percent of the median income, and at 30 percent, "it's dismal," according to Ray. That problem is statewide and not unique to Nashua, he said.
Even so, Nashua's average two-bedroom rental price is nearly $200 higher than the state average of $1,044.
Throughout Hillsborough County, the average two-bedroom price is $1,082 this year. Only Rockingham County is higher at $1,182. The North Country's Coos County rounded out the bottom with a $639 average.
Judy Nesset, landlord and president of the Nashua branch of the New Hampshire Property Owners Association, said it's best to compare Nashua to Nashua, where the lean market is keeping prices down.
"A full unit will give you a lot more rent than an empty unit will," said Nesset, owner of Bishop Real Estate Management. "So you can ask for $900, but if nobody's willing to pay $900, it's empty."
Increasing financial challenges for landlords also include rising taxes and the cost of removing lead paint.
"The profits are not what they were several years ago," Nesset said. "A building that could have been profitable seven or eight years ago may not be profitable now."