Region deals with another round of icy, wintry mess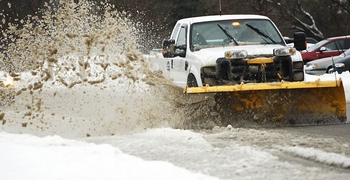 What with visions of the infamous December Ice Storm still hanging tough in their minds, plenty of Nashua area residents spent Wednesday afternoon with one eye on the sky and the other on exposed surfaces that show the first signs of ice buildup during winter storms.
By dusk, the moderate rainfall, which had been largely in liquid form since it took over for snow and sleet earlier in the day, had begun glazing vehicular surfaces, smaller tree branches and any bare, untreated walkways and driveways.
The afternoon commute, which was lighter than an average weekday's because of the storm, had its share of vehicles off the road and minor sliding accidents, especially on Interstate 93 in the Salem-Windham area and the Everett Turnpike in Nashua and Merrimack.
But as everyone knows, it could have been a lot worse – as of late Wednesday night, no weather-related outages for Public Service of New Hampshire.
"Today was a normal day for us. Things have been pretty quiet today," said PSNH spokesperson Kathleen Lewis.
Throughout the day, PSNH crews were on standby but not out on the streets in emergency mode Wednesday. Workers and their trucks were inside garages; it was not ideal to be outside, spokesman Martin Murray said.
"The weather is not appropriate to be working in, and there's little to be done," Murray said.
The public seemed to be on a "heightened level of awareness" with this most recent storm after the damage wrought with the last one, Murray said.
Last month's ice storm knocked 322,000 PSNH customers off line, but Murray didn't anticipate Wednesday's mix of snow and ice to cause as much damage.
In Nashua, preparations began nice and early, according to interim Public Works director David Fredette. He said crews set out in plows and sanding trucks at about 2 a.m. Wednesday. Fredette said he expected that workers would be at it well into the daylight hours.
Crews used a lot of salt to keep pavement from slicking, Fredette said. Roughly 600 tons of salt and 300 tons of sand were expected to be used, he said.
Heavy moisture in the snow and slush at least made it easier to push off streets, Fredette said.
In Merrimack, the department of public works sent trucks out to plow and treat 20 routes totaling 165 miles of roadway, said Kyle Fox, operations manager.
By mid-afternoon, crews had already laid down 60 tons of salt, Fox said. He estimated by the storm's end, another 40 tons of salt, 100 tons of salt/sand mix and 30 tons of straight sand would be spread.
He expected to keep some employees on into the night to make sure conditions didn't become hazardous.
"In a straightforward snow storm, with certain variations, it's pretty cookie cutter to pretreat, plow for the storm and once it stops, finish plowing, clean up the roads and post-treat with material," Fox said. "Where we get this mixed bag, it gets a little more tricky."
Getting warm all over?
For those thinking yet another ice and freezing rainstorm this winter signals the advance of global warming, don't rush to judgment, a meteorologist advised.
"It's hard to make that connection – at least not for a few years," National Weather Service meteorologist Michael Cempa said from his Gray, Maine, office.
It has been posited by scientists and others that as the globe warms, New England will see less snow and more ice.
But Cempa said Wednesday's storm was typical of winter. "We get a little snow and then we get a little mix. The December ice storm was more the anomaly."
He added: "Keep in mind we could get rain in January, too, and anything in between."
So any conclusions on whether New England's weather will change because of rising global temperatures will have to wait until several years of data are at hand, Cempa said.
The storm couldn't prevent state legislators from convening. Every year lawmakers must meet at least on the first Wednesday in January.
Sure enough, the House of Representatives and state Senate met in joint convention to officially accept the voting for governor and the Executive Council.
The distribution of complimentary vanity license plates that allow legislators to go through turnpike tollbooths for free may have provided extra motivation for some. The House had more than 350 of its 400 members in attendance and 22 of the 24 state senators were present.
The 21 policy committees of the House were to have their first orientation meetings later Wednesday afternoon but House Speaker Terie Norelli, D-Portsmouth, instructed the chairmen to decide if it was wise to reschedule the session and most of them did.
State Rep. Cindy Rosenwald, D-Nashua, said the House Health, Human Services and Elderly Affairs Committee she ran could meet briefly for this purpose since "17 intrepid members" turned out Wednesday.