Red Cross shelter has feeling of community gathering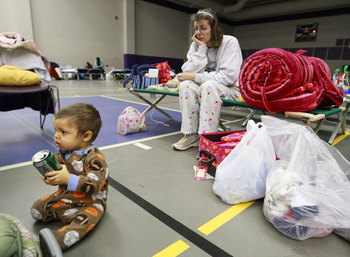 We arrived at the Nashua Red Cross Disaster Center at Nashua High School South on Saturday morning. Two nights with no heat, no water and six kids had stretched even my creative powers to entertain and keep them warm. Some of the kids had been at a neighbor's home, but wood stoves and asthma turned out to be a problem. Warmth without health is not the way to go. We were out of options.
"I think we should check out the shelter," I told my husband. At the very least, we can be warm during the day and then come home in the evenings.
The kids were leery about going. All they knew about disasters shelters were what they had seen on television with Hurricane Katrina. "Will we have to fight people for a place to sleep? Will we have water? Will we be safe?," they asked me on the way down.
What we found was a clean, well-lit, and friendly place inside the high school. We were welcomed, told where the sleeping areas were and more importantly where the showers were. People old and young were sitting at tables, some reading, some playing games and others just talking to each other. We even ran into an old friend of ours with whom we had worked.
No one was fighting like my kids had feared, and although you could feel the concern people had for their houses and neighbors, the frustration level was low. It felt like an old-time community gathering.
The Red Cross supplies a clean cot and blankets for each person, and my kids helped set up theirs. We then took over a table in the main area and proceeded to read books, check the Internet (although being in the high school some of the Web sites are blocked and my son is going through Runescape withdrawal) and tried to get as much information as we could. The first day, all we had was a hand-crank radio for information, and we all huddled around it every time we heard the word PSNH. As the power supply got better, we were able to access television.
I hadn't been aware that we would be provided hot food three times a day and snacks and drinks all day long (including lots of coffee). The high school prepares the food, and the Salvation Army is responsible for serving it. Some local businesses are pitching in, and today's lunch of sandwich wraps was donated by Chick-fil-A.
There are quite a few children here ranging from newborn to high school age. Games, coloring books and videotapes have come in handy to keep the littler ones occupied, and Sunday night, several of the older kids sat around a laptop to watch "Casino Royale" on DVD.
There is a real sense of community here, and everyone is helping out those who need a hand. The mom in me appreciates that everyone looks out for the kids, from entertaining them to even making sure that they limit their ice cream intake (three is more than enough). As one who is receiving assistance, I couldn't be more thankful that there is a clean, safe place for my kids and others in our community to come to when there is a crisis.
Gov. John Lynch showed up Monday evening as dinner, consisting of cheeseburgers, french fries, tomato soup and carrots, was being served. Taking off his coat and rolling up his sleeves, he helped serve the hungry people who stood in line holding their Styrofoam trays.
Those of us who had been at the shelter knew that the meal would be hot, filling and nutritious. We were also getting used to the routine of grabbing a tray and heading to the back of the curved line to wait our turn.
The governor talked to many of the people who were at the shelter and listened to their stories of power loss, complaints that pets couldn't be included and praise for the Red Cross and Salvation Army.
My daughters, who know Lynch, hugged him in greeting. When asked how they were holding up, the kids happily told him of the fun they were having, the games they were playing and the people they were meeting. To listen to them, staying at an emergency shelter was akin to staying at sleepover camp, complete with late night snacks and movies. It is a testament to the organizers and volunteers that the youngest of the people affected by this power outage could feel so safe and welcomed.
My kids then took the governor to the sleeping area to proudly show him where their beds were and the stuffed animals near each pillow that were holding court. Giddy with pride, the girls pointed out which bed was for which member of the family. Mine, Addy told the governor, is the one with the skunk in a Santa suit on it.
I had a chance to talk to the governor and told him how the shelters had made a hard time bearable. We were safe, fed, the kids were fine and although out of our house for now, we knew that we would eventually have a house to go home to. I wanted the governor to know that the system was not only working but was working well.
Anyone wanting information about the Red Cross shelters in New Hampshire should call 889-2519.