Red Cross seeks to recoup fire funds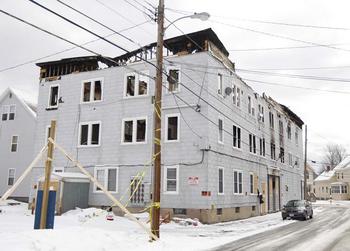 NASHUA – While city fire marshals will continue investigating a fire that left three-dozen people homeless, the local Red Cross chapter is still looking for donations to replenish funds used to help those affected by the fire.
The investigation of the fire that destroyed the Vine Street apartment building is ongoing, and the office isn't releasing any further information yet, fire officials said.
The New Hampshire Gateway Chapter of the American Red Cross is continuing to help the 14 families who were made homeless by the fire.
Ashley Pushkarewicz, the chapter's emergency services director, said all but one of the families have moved into permanent housing.
The food, shelter and money the Red Cross distributed to the fire victims totaled about $8,000 and came from the chapter's local disaster relief fund, Pushkarewicz said.
Since then, the Red Cross teamed up with the Pheasant Lane Mall to hold a Saturday morning fundraiser that brought in about $300 to offset that expense, Pushkarewicz said.
"Anytime you have someone from the community who's willing to help, whether it's time or money, it's always a success," she said.
So far, the Red Cross has collected about $2,500 in addition to the clothes, bedding and food that community members donated but it is still seeking donations, according to Karen Dudley, the chapter's community relations director.
"We're way short of our mark," Dudley said. "If we're going to be there for the next disaster, we have to make that money."
More than 125 firefighters responded to the five-alarm blaze that broke out the morning of Feb. 9. No one was injured, but the flames destroyed all 17 apartments and two street-level stores in the building.
The building's asphalt roof produced huge waves of dark smoke that several times blanketed the streets below and carried so high into the sky that it could be seen in south Nashua and Hudson, according to several spectators.
Nashua Fire Rescue Chief Brian Morrissey called it "one of the most significant" fires in Nashua in the past decade.
Firefighters from Nashua, Hollis, Hudson, Londonderry, Manchester, Merrimack and Tyngsborough, Mass., worked on the blaze. Other fire departments were called to Nashua for station coverage.