Real estate market hits 10-year low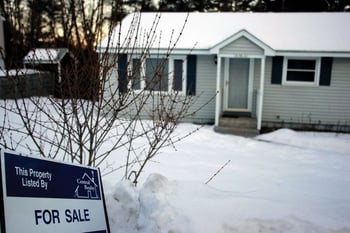 Amid the economic turmoil of 2008, the residential real estate market in the Nashua area took its sharpest decline in a decade, according to data released Wednesday by the New Hampshire Association of Realtors.
The average sale price of homes in Hillsborough County fell more than 10 percent last year to $249,300 and the number of units sold dropped 12.9 percent, falling below 3,000 for the first time in at least 10 years.
Blame foreclosures, the overall state of the economy, or the severe tightening of credit markets, but real estate experts say 2008 was an unusually tough year for closing deals. "Usually I do 20 to 25 transactions a year. Last year I only did 13," Maxine Goodhue, president of the Greater Manchester/ Nashua Board of Realtors, said. "And it wasn't for lack of trying . . . I worked harder."
Statewide, the average sale price fell nearly 10 percent to $235,000 and the number of units sold dropped 15 percent to 10,169, the NHAR data shows. That's down from a peak of 17,050 in 2004.
Predictions are rolling in for 2009, but few experts think we've reached the bottom in real estate.
Undoubtedly, the record number of foreclosures in 2008 contributed to the drop in sale prices. Not only do foreclosed properties sell for less than comparable properties; they also bring down nearby property values.
There were 3,233 foreclosures in New Hampshire from January through November 2008 – an increase of well more than 1,000 from 2007. In Hillsborough County alone, there were 990 for the same time period, an increase of 368 over all of 2007.
However, Realtors like Goodhue still emphasize the positive in this otherwise dreary market. They say lower home prices present great opportunities for first-time buyers to break into the market and that real estate is still a good investment if you plan to stay in a home long-term.
"I know you always hear that from realtors, but I don't say it flippantly," Goodhue, a broker associate for RE/MAX Omega Group in Manchester.
Going back a decade, Realtors are right about homes being a good investment. The average sale price in Hillsborough County last year was still nearly double that of 1998, when it was $131,500. But anyone who purchased a home in 2004 or later is likely to lose money if they sell now.
>>Real estate market stagnates<< The NHAR data comes less than a week after RE/MAX of New England released an equally dismal year-end report and 2009 outlook. Executive Vice President Jay Hummer predicted an improvement in the real estate market won't occur until at least the third quarter of this year. Hummer said foreclosures would continue to significantly impact the New England real estate market due to rising unemployment, salary freezes, stock market losses and other consequences of the sputtering economy. But he also said New Hampshire would be among the first states to rebound because of it's relatively low unemployment rate of 4.2 percent, compared with more than 6 percent nationally. Patti Kemen, RE/MAX of New England's New Hampshire spokeswoman, has joined a growing group of real estate experts in saying the government needs to intervene to boost the housing market. The real estate market is inextricably linked to the overall economy - accounting for as much as 20 percent of overall activity. That's why the subprime mortgage crisis had such a crippling effect on the overall economy. Experts predict that until the housing market shows signs of recovery, the larger economy will continue to suffer. "Unless the government can do something . . . and make the banks start negotiating, we're not going to start the healing the process," said Kemen, who operates a RE/MAX franchise in Dover. As the real estate industry now begins to vie for bailout money along with ailing industries across the country, The National Association of Realtors is still calling on Congress to enact a four-point housing stimulus plan that focuses on consumers instead of banks. The plan includes making temporary government loan limit increases permanent, removing a requirement that requires first-time homebuyers to repay a $7,500 tax credit, and pushing banks to make more credit available and speed up the short sale process.