Ready for the plunge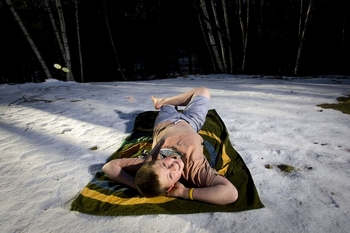 HUDSON – Cheryl Cerato remembers calling Camp Sunshine, a Casco, Maine, retreat for children with life-threatening illnesses and their families, several years ago and pitching an idea on behalf of her 9-year-old son, Joey.
"They said, 'What are you, crazy? You're going to let him do . . . what?' " Cerato recalled this week, laughing at the memory.
Indeed, the growing number of people – of whom Joey is one – who choose to raise money for their favorite causes by jumping into the icy ocean in the middle of winter have likely had their sensibilities questioned more than once.
But it works, and as Joey says, that's what matters most.
"I saw how well Special Olympics was doing with theirs, and I thought, 'That's really cool. It's a great way to help so many people,'" he said, referring to Special Olympics New Hampshire's "Penguin Plunge," held each Super Bowl Sunday at Hampton Beach.
With his parents, brother Tim and Camp Sunshine all behind him, Joey organized "Joey's Polar Plunge" when he was 11. Hooking up with one of the most famous cold-plunge organizations, South Boston's L Street Brownies, Joey raised a remarkable $6,000 by himself the first year.
On Thursday, Joey, Tim and roughly 60 other plungers who have joined his team along the way will take part in the fourth annual Joey's Plunge when, at 11 a.m. sharp, they join the Brownies in the group's traditional New Year's Day dive into icy Boston Harbor.
Many of Joey's teammates are connected to Camp Sunshine as volunteers, attending families and staff members. One plunger is also a camper – 11-year-old Christopher Bartorelli, who has been undergoing treatment at Dana Farber for two years.
Joey, now 14 and a freshman at Alvirne High, says he isn't one for lengthy pre-game planning. "I just kind of ride down there . . . I don't think much about (the cold) until it's almost time to go in," he said this week.
The Ceratos began volunteering at Camp Sunshine as a way of giving back, wrote family friend Adam Klein, a communications specialist who has helped Joey with publicity. "Joey's grandfather died of cancer and his dad, Mark, is a cancer survivor," Klein wrote. "As a way to give back for the many miracles they have received, the Ceratos began volunteering at Camp Sunshine in 2003 and since have volunteered for nearly 20 sessions."
Joey was just a toddler when his grandfather died and remembers little about him, he said. But much clearer are the recollections of his father's battle with the disease, which Cheryl Cerato described as "a one in 5 million diagnosis."
"That was a very scary time," Joey said of the ordeal, which began in late 2002 when his dad was diagnosed with urachal cancer. After extensive surgery, Mark Cerato has been cancer-free.
Joey's mom remembers him expressing a desire to take action at the time.
"Joey wanted to do something to help," she said. "He never understood why people, especially children, should have to go through radiation and chemotherapy treatments."
Today, Joey's fundraising campaign has grown into an endowment called the Joey's Polar Plunge Family Sponsorship Fund, a $37,000 endowment that, as it grows, will fund scholarships for Camp Sunshine families who aren't able to pay.