Raising a few pints to fight cystic fibrosis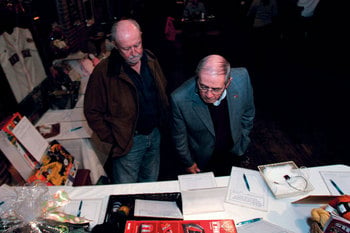 NASHUA – 10-year-old Rosie Garvey spent a Sunday evening in Peddler's Daughter but she wasn't there for beers and didn't have to sneak in.
Rosie was helping her mother, Paula Garvey, of Amherst, raise money to fight cystic fibrosis – a disease Rosie has battled since birth – during a fundraiser dubbed Toast for a Cure.
Cystic fibrosis is a chronic genetic disease that causes the sufferer's lungs to clog with mucus and problems with the pancreas.
This was the fourth Toast for a Cure that Garvey has organized, but this is the first time Rosie has been able to attend. And Rosie said the event was "really cool."
For her part, Rosie collected raffle tickets and gave a speech explaining what it's like to have the disease.
"I take 25 medicines and have to do nebulizers and a vest for 20 minutes per day," Rosie said. "Because I take all these meds, I'm usually well, but sometimes I'm sick and need to take even more medicines . . . CF really isn't fun so I thank everyone at the CF foundation for having events like this, thank you doctors and nurses, and I hope they can find a cure soon."
The vest Rosie referred to is a device that to shakes mucus loose in her lungs.
Garvey said more than 125 people attended the event, which raised an estimated $8,000 through donations, a silent auction and a raffle. A final tally was not available at press time, though.
Some at the event, including John Harvey and his wife, Sonia, of Nashua, know what it's like to have a child with cystic fibrosis. Their daughter Madisson, 15, was diagnosed with the disease at age 2.
John Harvey said he was "crushed and devastated" and Sonia said she had a meltdown when doctors gave their daughter the diagnosis.
But today, Madisson is relatively healthy because of all the advances in cystic fibrosis research.
They noted that the average lifespan of a cystic fibrosis sufferer has risen over the years. Lisa Babaian, the executive director of the Cystic Fibrosis Foundation North East chapter said about 14 years ago the average life span of a CF sufferer was 18. Now the average age is 37.
Because of the increase in the average life span, the Harveys are confident that by the time Madisson is 37 the average life span will be much longer.
"They are really close to a cure and as parents that makes events like this so important to us," John Harvey said. "We need to raise the money to fund the research that finds the cure."
Babaian said the reason the research has been so successful is that 90 cents of every dollar the foundation raises goes directly to research.
Several other people at the pub were the Garveys' neighbors. All of those a reporter spoke to had praise for the family.A neighbor, Patrick Adams, said he respects how the Garveys don't feel sorry for themselves and work hard to find a cure. He noted in the summer the Garveys have a lemonade stand and the sign on the stand states that the money will go to a cure for cystic fibrosis.
Neighbor Audrey Johnston said she didn't know much about cystic fibrosis before she met the Garveys. But she became so inspired by them, she joined a committee responsible for creating another cystic fibrosis event called Taste for a Cure in Bedford on April 16, 2009, which will feature food and wine from local restaurants.
Heidi Sturrock, another neighbor, said Paula was the type-of-woman who would do anything to help a neighbor in need. Sturrock said Rosie was a "vivacious young lady who is an inspiration to all children with CF."