Rain scuttles some, but not all, weekend events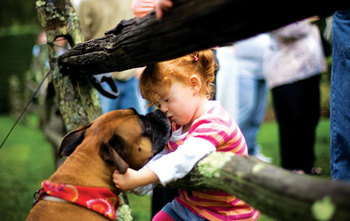 HOLLIS – Six-year-old Ben Van Clief wanted to go for a bike ride Saturday but a rain shower thwarted his plans.
"Once I got to the door it started raining like crazy," Ben said Sunday. Van Clief, of Pepperell, Mass., wasn't the only local person to have to rearrange his weekend plans because of rain.
Organizers of the Nashua Country Fair and Lamson Farm Days in Mont Vernon canceled their events because of the weather.
Fortunately, for Van Clief and his family, consisting of his father, Brian, mother Siri Stromsted, and siblings, Anja and Finn, Beaver Brook Association's 28th annual fall festival went on as scheduled Saturday and Sunday.
The rain cleared Sunday and the Van Cliefs were able to enjoy the festival's raptor show, which featured a golden eagle, a hawk and two types of owls.
Beaver Brook festival organizers said attendance at this year's festival was lower than last year's, but they were still pleased with the turnout. Staff counted 475 people Sunday afternoon and about 200 people attended Saturday. "A ton of people came out, even though it rained," said Frank Grossman, Beaver Brook Association's president.
Some at the festival said they didn't mind the rain. Sean Sullivan, 25, of Newton, Mass., and Lindsey Valich, 24, of Hollis, went for a run in the rain prior to going to the festival. On Saturday night, the couple went for a walk in the rain.
"We're outdoorsy," Valich said.
Valich, who was looking at art at the festival with Sullivan, said she liked seeing art based on local scenery, such as a painting of a Hollis barn by Matthew Gray.
Another person who wasn't discouraged by the weekend's downpours was 20-month-old Charlie Stone, of Hollis, who attended the raptor show at Beaver Brook. His father, Andy, said Charlie had been wanting to get outside all weekend.
"He goes for the door and yells 'Outside! Outside!' " Andy Stone said. "He's still fascinated when it rains."
Rich McElvery of Mont Vernon avoided four hours on yard work this weekend because of the rain.
"It spared me from mowing the lawn," he said Sunday while he looked at art by his daughter, Raleigh, on display at Beaver Brook.
The weather actually increased the attendance at Merrimack's Fall Festival and Business Expo on Saturday, organizer Dave McCray said. Fellow organizers predicted 3,000 people would attend, but 4,000 people actually showed up.
"With all the rain, nobody had anything else to do," he said.
A car show and softball game that had been planned for the expo had to be canceled because of the rain, McCray said. An NFL-sponsored event called Punt, Pass & Kick has been rescheduled to Saturday at 9 a.m. at O'Gara Field.
According to an announcement from the Lamson Farm Committee, the decision to cancel was made partly out of concern that cars would get stuck in the field that is used as a parking lot, and also because police and public works units that help control traffic were likely to be busy with flooding and washouts.
This was the first time in the farm's 29-year history that the event was canceled.
The Nashua Country Fair was canceled, too, because rain was going to "cause havoc" with the fields, according to the fair's Web site, nashuacountryfair.org.
There were no reports of serious problems due to the rain over the weekend around the region. Public Service of New Hampshire reported that the storms did not create an increase in power outages.