Radio show host walks to fight hunger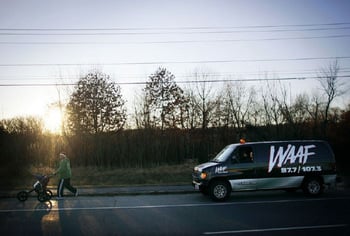 MERRIMACK – Anyone traveling Daniel Webster Highway on Wednesday may have noticed this odd scene: A guy trekking on the side of the road, pushing a baby stroller with a bucket in it. He was being followed by a van, which moved at the pace of a snail.
No worries. The guy was Lyndon "L.B." Byers, a radio personality who was on the first leg of a three-day walk from Manchester to Boston to raise money to help the hungry, including donations to the New Hampshire Food Bank.
Byers, who is also a former Boston Bruin, is a member of "The Hill-Man Radio Show," broadcasted on the Worcester, Mass.-based WAAF rock radio station. The station is sponsoring its 16th annual "Walk and Rock for Change."
Byers will finish his 70-mile journey Friday at the studio in Brighton, Mass., where he'll meet his colleague, Anthony "Spaz" Sparziale, who's doing a three-day walk from Worcester.
Donations they collect on the road will be combined with fundraising from the station, which is accepting requests for any type of song – but at a price.
For example, New Hampshire Gov. John Lynch paid $250 Wednesday to hear "She is Just My Style" by Gary Lewis and the Playboys. Red Sox catcher Jason Varitek paid even more for a Three Doors Down tune. The station also earned big bucks for playing "Mack the Knife," "Ave Maria" and a Hannah Montana song.
Not counting street donations, the station raised about $21,000 on Wednesday, said Bill Alfano, director of marketing for WAAF. He hopes to meet or beat last year's take of $115,000, which will be split among three organizations, including the New Hampshire Food Bank.
The Telegraph caught up with van driver Nelson Alexandre and Byers in Merrimack, just south of the Exit 11 interchange, and walked with them for about three quarters of a mile. Here are excerpts of what Byers had to say, in between at least a dozen donations made on the side of the road:
Question: L.B., can you tell us how it went this morning?
Answer: It's been awesome . . . I've had (a donation from) an out-of-work plumber. I've already had 10 people donate today that have used the New Hampshire Food Bank. It happens the whole way . . .
(A truck pulls over and a man gives Byers some cash. Byers realizes he knows the guy.) Sarge! This is my friend . . . He's French Canadian. Feel this! (Byers beats on Sarge's chest.) Rock hard! A lot of people like Sarge have donated for 10 years.
Q: Do you train?
A: No, I never prepare . . . It wouldn't be right if I actually prepared.
Q: Why not?
A: I don't know. It's not me. Exercise is overrated. I'm retired!
Q: Do you get tired or what?
A: I'm fat and old. I get sore, yeah, I don't know. It's natural. It's not like I'm running the whole way. I've got some bumps and bruises . . .
Q: Which is tougher: this or an NHL hockey game?
A: Uh, haha. I was a meathead. Getting my leg punched out hurt a lot more than walking.
Q: What are you going to do if Spaz raises more money than you?
A: Uh, that would never happen.
Q: How do you know?
A: Because I'm L.B. and he's Spaz. It's just the way of the world. There's nothing he can do. Just like I'll never be host of 'The Hill-Man Morning Show' . . . What do they call that? . . . It's the chain of command or . . .
Q: The food chain?
A: The food chain, exactly. Spaz is the amoeba. I would eat the amoeba. Hill-Man's the alligator . . . Wait, what do I want to be? I'd be a lion, maybe.
Q: So then you'd be at the top of the food chain.
A: Oh, no, no. Alligators are the best. I might have screwed that up.
Q: What does Nelson do? Does he just drive 2 miles an hour . . . ?
A: Nelson protects me. It's so I don't get smoked . . .
Q: He's kind of got a cushy job, though. Warm, heated van.
A: Well, his right calf tightens up and cramps up from, you know, working the gas pedal.
Q: So you're around music all the time. What song do you think best describes this experience?
A: Ah, you know, there's a tribute song that we play. One for the firemen and one for the military. That's what makes times like this most special. We're helping people, they're helping us. You know and I know that there are probably veterans that need the food bank. And it's sad, and when you do something like this, it brings awareness to that.