Questions are put to candidates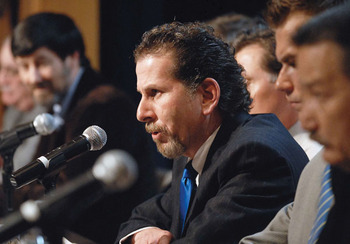 MERRIMACK – With two weeks to go before voters take to the booths, candidates for Town Council and School Board took center stage Wednesday to make their cases.
The Exchange Club of Merrimack hosted the candidates night event, drawing about 35 people to Merrimack High School.
Those vying for the three open council seats are Dan Dwyer, Tom Koenig, Thomas Lynam, Michael Turcotte and incumbents Tom Mahon, Mike Malzone and David Yakuboff. Running for the two open School Board seats are Shannon Barnes and incumbents Jennifer Thornton and Jody Vaillancourt.
Each of the 10 candidates gave a short statement and answered questions submitted by the audience. Council candidates were asked about handling the increasing burden of the state's retirement system; their opinions on switching from a five-member Board of Selectmen to a seven-member, charter-governed council; and spending.
Town Meeting '09 – Merrimack
Mahon, currently chairman, said the issue is complex and expensive: reductions in state contributions may cost Merrimack taxpayers an additional $56,000 next year and another $90,000 the year after that.
He called the topic complex and one that the council has no control over.
Malzone said he is wary of any federal grants that come before the council, because "they always come with strings attached," which can increase overtime costs, and later, retirement contributions. Malzone suggested that contract negotiations with three unions this year be done in public, which he said could "help this town immensely."
Most candidates expressed support for the seven-member council format because more voices and ideas are expressed.
But Dwyer countered, saying he disagreed with the council's approval of property purchases off Bishop Street, and with the deal to transfer land to the state for a new Merrimack District Courthouse.
The candidates were asked to discuss examples of "excessive spending," which stem from Dwyer's campaign signs.
Dwyer, who advocated for keeping taxes flat, pointed out that the town operating budget has ballooned from $25 million in 2006 to $31 million this year.
Koenig, who said one of his main goals is to help people understand the reasons for council decisions, pointed out that a large reason for the difference is that capital reserve money is factored into the budget. A more accurate measure of the situation can be gauged by the town's portion of the tax rate, which has gone down.
Mahon said the council spent about 30 hours peeling more than $800,000 out of this year's budget, so he didn't agree with that concept.
Yakuboff pointed out that voters seemed happy with the council's work at deliberative session, which lasted all of 15 minutes.
"You cannot cut the budget continuously," he said. "There's nothing left to cut."
Turcotte, who runs an entrepreneurial eco-consulting business, said campaign signs themselves are a waste.
Lynam said his property taxes have continued to go up, even though nothing has changed on his house.
"I can't stay here, and I know my children won't want me to move in with them," Lynam said, half-joking.
School Board candidates were asked how they would spend federal stimulus money and state funding.
Barnes said money should be put toward specialists in the middle school, which is in need of improvement.
Thornton and Vaillancourt said spending guidelines point to capital projects covering things like asbestos abatement and roofing.
They were also asked if within 10 years, an elementary school might be closed due to enrollment projections.
None thought so.
"I think we're on a curve," Vaillancourt said. "We went way up dramatically, and now we're evening out."
Barnes said the housing market is a strong indicator of what may happen down the line, and she thought that affordable housing may draw more young families into town.
The event was taped and is scheduled for rebroadcast several times on the local government channel.
Election Day is April 14.