Pumpkinfest brings flavor of Halloween to Hudson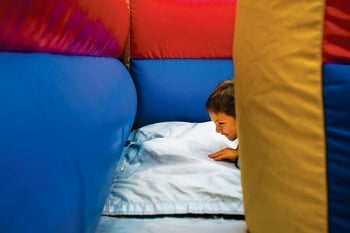 When the final numbers roll in from the Hills House grounds in Hudson, it's safe to say the Hudson PumpkinFest won't be dethroning its interstate rival in Keene as the world's foremost celebration of the gourd.
But if the hundreds of families who came out to the grounds Saturday afternoon are any indication, the size of a festival doesn't always directly correlate with its success.
"We've definitely had a great time so far," said Windham resident Charissa Lyons, who came out to the festival with her husband, Mark, and their three children.
"We've already looked at some of the antique cars, found a few things at the yard sale, looked at some pumpkins and had fun playing on the fire truck, and I think we're making our way towards the games area next.
"This is definitely something I could see us coming back to."
Held for just the second time, the festival is the brainchild of Norm Cloutier and Mike Falzone, who came up with the idea in 2006 as a way to bring local communities together and provide families a fun way to celebrate the spirit of Halloween.
"This is just such a great event for the community, especially the kids," said Betsey Martel, of Manchester. "I know Keene's festival is a big deal, but something like this makes it a lot easier for local families to get out and enjoy the day."
Martel, who is the head of children's services at Hills Memorial Library, was on hand Saturday entertaining those who wished with a reading of the classic children's book "Big Pumpkin."
Fellow Hills librarian Megan Ellis was also in attendance, running a station at which people could make caramel apple crafts.
The festival, for which admission was free, featured a plethora of family-friendly activities, exhibits and games. Along with the car show, fire trucks and yard sale, families also had a chance to enjoy some classic oldies courtesy of Sam the Music Man, take a tethered hot air balloon ride courtesy of ReMax, bounce away the afternoon in an inflatable obstacle course or even shoot for a chance to win some prize money in Cow Pie Bingo.
"This really is a wonderful event," said Donna Cabral, of Litchfield, who attended the festival with her two grandchildren.
"It's great to see someone providing an event that kids can really enjoy."
Back in 2006, the inaugural event featured 130 jack-o'-lanterns and about a dozen vendors. This year, Falzone and Cloutier worked for more than five months to make sure that both of those numbers would grow, sending out countless fliers and announcements to try to bring people out to the event.
"I've always wanted to see something like this pull together around here," Falzone said.
"I've been to the Keene celebration several times, and for the past few years, I had been trying to think of a way to bring it closer to home, so to see people having fun like this today is nice."
Other attractions at the festival included tables from 21 vendors, featuring items and services that ranged anywhere from face painting and scarecrow making to fine jewelry and woodworking.
"We put out an offer to several different businesses and nonprofit organizations in the area, and we really got a great response from them this year," Cloutier said. "Hopefully, we can continue to see this thing grow each year and have it really turn into a staple of the season like Keene's festival is each year."
While the games and exhibits are all great for drawing the crowds, Cloutier and Falzone know the strength of a good pumpkin festival is measured not in fried dough sales, but in the number of glowing lanterns on display when the sun sets.
"We really encouraged anyone who comes out to this event to bring their own jack-o'-lantern to join our display," Cloutier said. "That's really the best part of the whole thing. Hopefully, if enough people bring in something they carved up, we'll have quite the show each year."