Pumpkin parade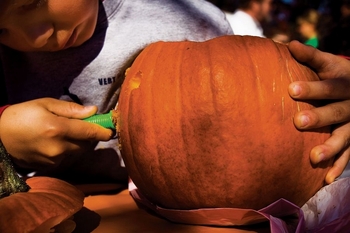 MILFORD – Keith Cote was all smiles as he danced to the music of a three-piece band on the Oval on Saturday morning, his tiny 7-week-old son in his arms.
His wife, Wendy, and their 2-year-old son, Caleb, sat on the grass near the bandstand.
It was their fifth Milford Great Pumpkin Festival.
"We spent most of the morning with Caleb at the fire trucks – all good kid stuff," Keith Cote said.
The Cotes were among the many hundreds of people who enjoyed the annual fall festival. And if news around the world is all doom and gloom, you'd never know it from the people who came to have fun under sunny skies.
On the other side of the Oval, Bill Connery, of Francestown, and his young grandson, Casey Bergeron, of Exeter, admired the champion pumpkins on display.
And in the shady woods of Emerson Park, students and staff from Pine Hill School entertained the youngest festival-goers with storytelling and a storybook trail.
At the Great Pumpkin weigh-in, Matt Thistle, of Loudon, won the first prize of $600 for his 1,208.6-pound monster, while last year's winner, Norm Cote, of Bedford, came in fifth with an 866-pound fruit.
The two Milford winners were Hannah Trombly, who won $75 for her 55-pound pumpkin, and Halley Trombly, who won $25 for a 46-pounder.
In front of Souhegan Cycleworks on the Oval, kids and adults were riveted at the sight of Ken Cleveland, a ing to music on his custom bike.
People lined up for fresh pizza from Pasta Loft's outdoor stand, bought popcorn from the Baptist Church booth or wandered over to the new Red Arrow diner for samples of pies and hot dogs.
Later in the afternoon, crowds were shoulder-to-shoulder on Middle Street, which resembled a country fair, with french fries, onion rings, homemade fudge and fresh lemonade.
At 3 p.m., people wandered over to the firehouse to watch the Milford Fire Department demonstrate how fast a room without a sprinkler would go up in flames compared with a room with one sprinkler unit. The mock room, filled with real furniture, was engulfed seconds after a firefighter lit a fire in a wastebasket.
Nineteen years ago, the festival was started on a small scale to raise money to renovate Town Hall, and that building and Eagle Hall created a stately backdrop for the festivities.