PSNH chief takes the long view on RGGI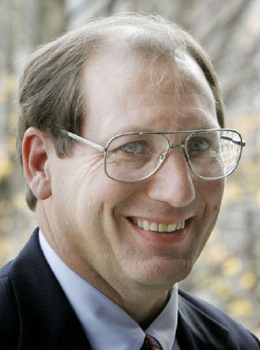 Public Service of New Hampshire may not be happy with Regional Greenhouse Gas Initiative legislation that's making its way through the Legislature, but the utility won't actively oppose it, says Gary Long, president and chief operating officer.
In an interview with New Hampshire Business Review, Long said PSNH "didn't oppose what went through the House," even though the company had major concerns with the bill that would set a regional cap on carbon emissions and force utilities to bid in an open auction to obtain allowances to emit carbons.
Long said he was concerned that the free-market model proposed for the carbon allowances might drive up electric rates. He also said he would have liked to have more controls in place.
Since such a carbon allowance market has never been in place before – at least in the United States – "I can't tell you how the market is going to behave, and neither can anybody else," said Long.
PSNH, he argued, "has a direct link to our customers," unlike brokers who will potentially be buying and selling allowances "solely for money, and they have no connection for our customers."
Specifically, Long said he would like to see the state's RGGI legislation to allow:
• PSNH to have first dibs on bidding for three-quarters of the credits
• More credits for the carbon reduction initiatives PSNH has undertaken in the past.
• Rebates to customers if the price of credits get too high
• Setting aside some credits in case of an emergency
'Scare tactics'
What Long would really like is for PSNH to be able to own a piece of the renewables action – for the state to allow it to build a biofuels plant that would enable it to gain carbon offset credits while at the same time helping meet its requirements to include 25 percent renewables in its energy portfolio without having to buy it off the market.
Lawmakers nixed that idea last year, arguing that PSNH's size, and its ability to pass on risk to consumers, would knock out competitors that wanted to exploit the biomass and wind energy potential in the North Country to revive an economy pummeled by paper mill closures.
Long said these concerns were a "red herring" and "not focused on economics," since the amount of renewable energy to be produced is a small percentage of the demand in all of New England. It was the lack of adequate transmission lines that stalled the "gold rush" for renewables plants in the North Country, he said.
In fact, said Long, PSNH could have had a plant up and running by now, if it the legislation allowing it build one had passed.
Besides, consumers would pay less for electricity produced by a PSNH-owned facility because the return on investment allowed by the state Public Utilities Commission is so much less than the mark-up passed on by brokers and independent energy producers.
True, these companies won't be taking the same risks as a regulated utility, which — if the deal turns sour — could pass that cost on to ratepayers. This is what happened with costs associated with the Seabrook nuclear power plant. But Long said such warnings are "scare tactics" because it is unlikely that history would repeat itself.
Besides, ratepayers are paying for it with higher costs charged by investors who are adverse to risk.
"You are paying for that risk," he said.
But Long said the utility isn't going to lobby for the right to build a power plant this session because it didn't have much of a chance.
And while it isn't opposing the RGGI legislation, PSNH has been very active in negotiations over the measure, and, said Long, has won enough concessions to accept a compromise – even while other organizations are more actively lobbying against it in the form that has already passed the House.
One of the major points of contention was whether the money earned by auctioning off carbon offsets would go to improve conservation or mitigate expected increases in electric rates.
In order to understand this point, it's important to understand how RGGI works, said Long.
In 2005, 10 Northeastern states agreed to limit carbon dioxide emissions to 188 million tons – roughly the region's current emissions – with each state receiving a certain allocation.
New Hampshire is budgeted at 8.6 million tons, which translates into 8.6 million "allowances." Each state has to maintain those levels through 2014, and then reduce it by 10 percent by 2018.
The allowances will be awarded quarterly and can be banked indefinitely. Companies can either earn them by reducing their carbon-based emissions, or they can purchase them on the free market, where they can be bought and sold like any other commodity.
According to the RGGI ground rules, a quarter of these credits have to be auctioned off and can be either rebated to consumers or used for conservation purposes.
There are a few safeguards in place for that 25 percent. If the price of the credits rise above $7, utilities can go outside the region and buy 5 percent of their allowances nationally. If they go above $10, they can buy as much as 10 percent internationally.
But states could establish more safeguards on the other three-quarters of the available credits. While most states are auctioning those off as well, and not just allocating them to utilities, some have put restrictions on them.
Compromise figure
One of the biggest questions is whether all of the money raised at the auctions should go to energy conversation or whether the money should be rebated to customers.
The University of New Hampshire recently released a report saying that in the long run consumers would be better off if as much money as possible went to conservation. While the rates may go up more, the average consumer would be buying so much less energy that they would actually save more money than through rebates, the report reasoned.
Long, however, took issue with the report, especially if the credit price goes up. If it rises above $10 a credit, he said, that would create a pool of about $85 million for conservation and renewable energy. PSNH currently allocates some $18 million for its conservation programs, he said. An almost immediate increase to $85 million would create a pool of money that, at least in the short run, would overwhelm the ability of current conservation programs to be effective.
Another way to put that money to work would be to increase electric transmission capacity in the North Country — an estimated $150 million to $200 million project. But there would still be some major policy issues, about whether the public should pay for transmission lines that would enrich private power producers and whether the entire region should pay for such line upgrades, since much of the power produced in the North County would likely be consumed by other states in the region.
The compromise figure that passed the House — $15 a credit before the money goes to customer rebates – is better than nothing, Long said.
Long also said he was glad that 1 percent of the credits would be used to meet a capacity emergency – such as a heat wave — or because credits were all bought up and hard to come by.
But Long said he is not satisfied that anyone would be able to buy these credits under the law that passed the House. He feared that it would mean that the credits would be snapped up by speculators or even conservationists who would want to sell them on the voluntary market for those who are trying to be "carbon neutral." (See article on page 35.)
Such programs are nice, Long said — he even received some carbon credits as a gift from his daughter, with a sticker he can put on his now carbon-neutral car. But utilities would need these credits to produce enough electricity to meet customer demand.
"It's important that utilities that need these credits have access to them," he said.
The last point, how much credit PSNH should get for what it has done for the past, is still up in the air. PSNH wanted credit for some 36 million offsets. The state Department of Environmental Services wanted to grant it 4 million. The House agreed to 12 million. Long said that wouldn't put a hold on RGGI legislation, but the matter still has to be worked out, either through negotiation, or – he warned – through litigation.