PSNH already upped budget for trimming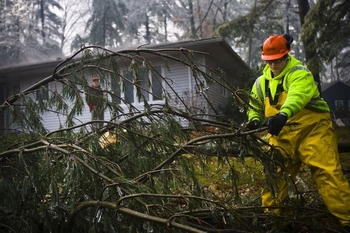 In 2007, the New Hampshire Public Utilities Commission upped PSNH's budget for regular tree-trimming operations from $10 million to $13 million, according to the utility company.
However, no amount of trimming would have prevented the bulk of outages in the state during December's record-breaking ice storm, said Tom Frantz, director of the New Hampshire Public Utilities Commission. He estimated 75 to 80 percent of trees that hit power lines were large and outside the "trim zone."
"Additional tree trimming and more aggressive tree trimming can only help," Frantz said in December. "But in an unprecedented storm like we just experienced, we obviously still would've had significant outages and damage to the grid."
Even so, some customers have speculated that cutbacks in tree trimming may have intensified the problem. Some 400,000 households were without power – some for nearly two weeks – after the December storm, largely because trees crashed into wires.
But along with the increase in trimming funds, PSNH has also squeezed its trimming schedule, said spokesman Matt Chagnon.
For example, up until 2007, trimming in a certain location, such as Main Street in Nashua, would be done every five to six years. Now, it's done every four to five years.
Trimming, Chagnon added, is done year round, and each year, PSNH covers 2,600 miles of roadway in its trimming cycle. Also, trimming is carried out not geographically, but systematically according to the company's network of large power lines.
Chagnon said legislation would be required to increase the amount of money in the company's tree-trimming program, but there isn't anything set in stone at this point.
"We have heard talk about other legislation, but we haven't seen any written bills," Chagnon said.