Proposed fire station expansion still a hot topic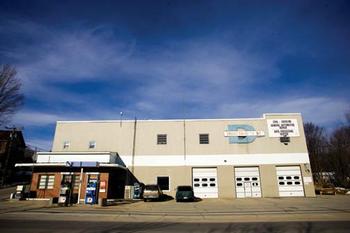 WILTON – Visions of a community center and additional downtown parking make the former Draper Energy building an ideal buy for two of the town's selectmen.
The third isn't so convinced, citing narrow service station doors and a shaky real estate market as reason to postpone purchasing the property.
The three men took a tour of the Draper building last Saturday.
"I personally think it's something the town should own," Chairman Richard Rockwood said Monday at the board's meeting. The property is downtown and is a prime piece of real estate, he said.
The idea to buy the building in lieu of renovating and expanding the nearby fire station surfaced two weeks ago at the town Budget Hearing.
The current asking price for the property is $795,000.
"It's 14,000 square feet of usable space," Selectman Bill Condra said. "We could reconfigure the interior. It could do well as a fire station or any number of other usable pursuits."
But Selectman Dan Donovan wasn't swayed.
"I have some severe reservations about acquiring it," he said. "I also feel it will be on the market for a long time. If we decide to buy it, it will be cheaper two years from now."
He noted that the doors on the former service station aren't as wide as those at the fire station, which are barely wide enough for the trucks.
Rockwood countered, noting the garage is cement block construction and the doors could "easily be made wider."
Condra added other positives.
"The upstairs could be a community center, any number of things," he said.
He also noted the back parking lot has "a hundred spaces," and spoke of sidewalks to Main Street.
"The parking problem could go away," he said.Although the Budget Committee agreed last week to add $300,000 to the town warrant for the purchase, Rockwood said the town's attorney told selectmen the purchase cannot be approved at the Town Meeting on March 13. There isn't time enough for the required bond hearing; nor can the item be simply recessed to another meeting.
"This could lead to a special Town Meeting," Rockwood said.
The purchase would require the renaming of a current capital reserve fund for the fire station, currently at $426,000, plus the use of $84,000 in an emergency building fund. Those issues can be dealt with at Town Meeting.
Renovation of the present fire station is also under consideration.
The Building Committee has proposed the addition of three bays and office space to the current station, which is 50 years old. The architect has not furnished completed plans for the renovations.
The selectmen planned to meet with the Fire Station Building Committee this week to discuss the proposals and will make decisions after that.