Promise of wireless broadband being fulfilled in North Country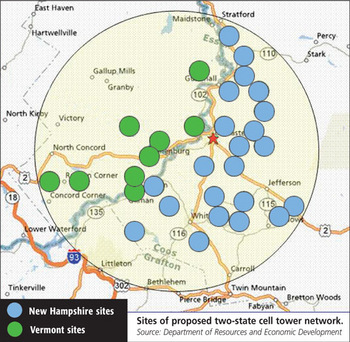 After years of waiting, residents and businesses in remote areas of Coos County will soon have access to wireless broadband Internet service.
"This will bring us out of the Third World up here," Dalton Selectman Brian Hardy said of the service, which is being made possible by a nonprofit open access system called Wireless LINC of NH and VT. "It will put us on an equal footing with the rest of the state."
Hardy, a seven-year selectman, has personal experience with the lack of broadband access. His home environmental consulting business is located on the Littleton-Dalton line. "We don't have cable or DSL service out here. It's very frustrating. I can't download files over dial-up. I have to travel or use snail mail."
Dalton joins Lancaster, Whitefield, Jefferson and Groveton as part of Wireless LINC's 2008 pilot project, which will encompass 400 square miles.
The system currently is being readied for testing over the winter. Originating from Lyndon State College in Lyndonville, Vt., a signal will be broadcast to Burke Mountain and then to Lancaster's Mt. Orne cell tower. Some 30 private and municipal sites throughout the area will be equipped to receive and re-broadcast the signal to selected neighborhoods.
"We have a lot of testing to do," project manager Tom Joyce said. "In this area, we have issues of topography, extreme weather and foliage. Testing won't be completed until the leaves come out next May."
Different configurations will be assessed, including high- and low-frequency signals and line-of-sight and non-line-of-site technologies. From this data, the remaining build-out can be designed.
The next phase of service will be offered in Littleton and Stratford. Eventually, all of Grafton, Coos and Carroll counties will be covered.
Peter Riviere, executive director of the Coos County Economic Development Corp., has for the past seven years been touting the importance of broadband access in the region. "The factors that make delivery difficult have made it economically unfeasible for private providers to offer services," he said.
Most of the North Country's economic centers, such as Littleton, Conway and Berlin, have a selection of technologies, but outlying neighborhoods and rural towns frequently have little choice but dial-up. Broadband options are unavailable or very expensive.
"We needed to find public money to build a parallel network that would be affordable," said Riviere.
In 2001, Riviere had a business aggregation solution lined up with Global Crossing, which had provided service in the Berkshires of Massachusetts. But 10 days before rollout, the "dot bomb," as he calls the technology stock crash, killed the project. "It fell apart," said Riviere.
But, along with other regional leaders, Riviere continued to champion the need for broadband for economic development, public safety, education and medical applications. In 2004, the New Hampshire Rural Development Council took the issue on as a priority and produced a series of reports resulting in The Northern New Hampshire Technology and Telecommunications Master Plan, which mapped existing infrastructure and identified gaps, as well as made recommendations for possible solutions.
The last mile
Out of this process grew Wireless LINC, a partnership between Northern Community Investment Corp. (NCIC) and Littleton Area Development Corp. (LIDC).
Its plan is to build a six-county, 6,000-square-mile, open-access system across northern New Hampshire and Vermont.
Wireless LINC currently is in discussion with vendors to act as wireless Internet service providers, which will act as resellers of the signal to end-users.
"Customers will be able to choose who they get their service from," Riviere said. "We believe this competition will drive better service and lower prices."
"Our goal is not to compete with existing providers," Joyce added. "We want to reach the last mile — people who receive only dial-up."
The $12 million project will be funded through a combination of grants, federal earmarks and tax credits. To date, $2 million has been received for the New Hampshire portion, which has a total price tag of $4.7 million. The tax credits, issued through the Community Development Finance Authority, are available to any business that wants to buy them, Riviere said. Wireless LINC has $212,000 left to sell in 2007 and may receive another $500,000 in 2008.
Jon Freeman, executive director of NCIC, called the system "a transforming infrastructure, because it will profoundly impact opportunities for business growth, education, health care, first responders and those who live and visit the region."
Veronica Francis, vice president of LIDC and owner of Notchnet, a Web design and hosting company, is excited about the implications of the project as well.
"Small businesses need broadband to operate," Francis said. "We would see more high-tech businesses in the North Country if we had affordable, available broadband."
Bruce Houghton, owner of the Skyline Music booking agency in Whitefield, echoed Francis's thoughts.
He moved his business from Jefferson because he was paying $800 per month for a T-1 line. "It was cheaper to buy another building and move my business," he said. Skyline uses broadband to move contracts and promotional materials and to answer phones in distant offices in Portland, Maine, and Atlanta, Ga. All told, some 90 percent of Skyline's European and Asian bookings are done via the Internet.
With four employees in Whitefield and six in other locations, Houghton said he sees opportunity for rural areas in access to technology. "Broadband is key to creating the jobs of the future," he said.
For more information about the system, visit www.ncic.org.