Prominent area Indian-Americans hope to promote heritage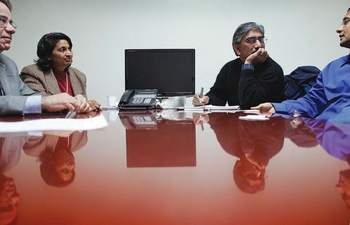 NASHUA – As the seven prominent Indian-Americans gathered Wednesday night to discuss how to promote a better understanding of their heritage, it wasn't lost on Latha Mangipudi that the meeting fell on the eve of a holiday.
Jan. 15 is the feast of Pongal, a harvest festival in southern India.
"It's a great day to start our meetings. What's a better day to share our bounty!" Mangipudi said.
Also, as some of the discussion turned to how Indians could do a better job flexing their political muscle, the gathering coincidentally marked the one-year anniversary of Bobby Jindal, the first elected Indian-American governor, taking office in Louisiana.
A traditional Hindu festival and the secular ascension to political power make fitting bookends to the breadth of the culture and contributions of Indian-Americans. A small group of Indians living in and around Nashua hopes to meet regularly to discuss ways to shine a light on their culture here.
Indians who first came to Nashua, and to the United States in general, to further their education and expand their opportunities have gone on to start their own businesses and work in high positions in medical, technical and other fields, said Kedar Gupta, chief executive officer of Arc Energy at 18 Celina Ave., the business that hosted the gathering.
Yet, it's the nature of Indians to be low-keyed about their achievements, Gupta said.
Beyond the stereotype of doctors, engineers and storeowners, Indians have made solid contributions in community service, preparing meals at soup kitchens and lending a hand in other areas, said Mangipudi, a former Nashua Board of Education member who works as a program manager for the Nashua Center for the Multiply Handicapped.
After the 2001 terrorist attacks and the more recent trend of companies outsourcing jobs to India, the need to promote the positive aspects of the Indian community has become more important, Mangipudi said.
She noted that her skin color was never an issue until after 9/11, when some people equated dark skin with Muslims and terrorists, she said.
"When you're interacting with people, our skin color is obvious. But that's only part of the story," Mangipudi said.
Most Indians are Hindu, but Christianity, Buddhism and Islam are among the tapestry of faiths practiced on the subcontinent.
Also, Indians have been hearing criticism about U.S. companies losing jobs to India.
Chandra Khattak, chief technologist with GT Solar Inc., pointed out that Indian business owners are creating jobs here. Also, there has long been a "brain drain" of engineers and other skilled professionals leaving India for jobs in the United States, he said.
Other professionals who met Wednesday were K.G. Sudhir, a physician, Venu Rao, an energy consultant and former Hollis School Board member; Pankaj Shah, CEO at Gambit Communications, Inc.; and Rajesh Nair, founder and chief technology officer of Degree Controls Inc.
Group members said they would continue to meet to map out strategies for promoting Indian culture and the contributions of Indian-Americans.