Project brings a new concept of housing to Nashua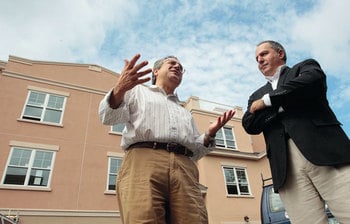 NASHUA – Two buildings cannot transform a city. But when the last hammer swings on this Lake Street project, there's potential for a new way to think about living in Nashua's inner city.
The concept is called New Urbanism. It's the reverse of the suburban sprawl that sent folks packing decades ago, as inner-city streets became synonymous with crime and poverty.
New Urbanists hope to recreate walkable cities where people of all incomes can live near the places they work, shop and eat. It's a tall order, but there are signs of the movement in nearby cities such as Boston and Lowell, Mass.
Those involved in the Lake Street Terrace Townhouses believe it is the first project of its type in Nashua. Rather than building luxury condos by the river or a new complex on a big piece of land, they stuck 10 upscale townhomes on a small lot in a densely packed neighborhood.
"You don't feel that this is new. It belongs to the city. It belongs to the character and the shapes," architect Yervant Nahikian, of Hooksett, said. "This type of project is very current in other cities. So we just wanted to bring this new spirit to Nashua."
The Terrace Townhouses are steps away from the Adult Learning Center and directly across Main Street from the Shaw's Supermarket plaza at 300 Main St. The heart of downtown is a few minutes by foot.
The units are not cheap: Prices begin at around $300,000, sans luxury upgrades like granite counters and cherry floors. But they're designed to blend into the existing historical and mixed-use neighborhood.
There's also an environmental benefit to this type of development, according to Alan Manoian, the lending and economic development officer for HampshireFirst Bank, which financed the project.
Manoian, well-known in Nashua as the former assistant director of downtown development, said families who can walk most of the places they need to go could have one less car. And perhaps they could put the money they save on payments, fuel and insurance into a mortgage, he said.
The project, which is nearly complete, is located where two houses used to stand at Nos. 5 and 9 Lake St.
Manoian and Nahikian are on the same page when it comes to the perks of this kind of location, both for the people living there and the city.
"We believe in downtown living. When you leave downtown for only businesses, it doesn't survive," Nahikian said. "We are sure that this is the way to go, and we are planning to do more of these, yes."
Manoian said Nashua's downtown already has a great blend of shops, restaurants and entertainment. But what's lacking is enough of a residential component to give people a reason to be there.
Nahikian's task was making the units look like they belong in a neighborhood with buildings that date back to the late 1800s and early 1900s. To do this, the architect said he followed the lines of landmarks like Elm Street Middle School and used stucco for the exterior.
He said the types of townhouses that are developed more frequently these days in cities like Nashua – rows and rows of box-like structures with vinyl siding – don't fit in with the traditional landscape.
The project is a realization of sorts for Manoian's vision for Nashua. Last July, he and several members of the Greater Nashua Workforce Housing Coalition toured a New Urbanist mixed-use development in East Boston to talk about developing a similar model for Nashua.
That development, Maverick Landing, is unique because well-paid professionals live side by side with families on government assistance. About 80 percent of the tenants receive aid, paying rent based upon their income. The other 20 percent pay no less than $1,700 per month for a one-bedroom unit.
None of the Terrace Townhouses units – 2,100 square feet each with third-floor rooftop decks that overlook the city – are subsidized. But Manoian said the project is a great conceptual model for future development.
"The car, the automobile, is not the first thought or focal point of life," he said.