Program offers enviro assistance to businesses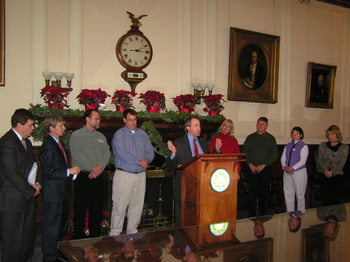 Aspiring Leaders, a program designed to recognize and offer assistance to businesses that want to take steps toward better environmental management, has been unveiled by the state Department of Environmental Services.
"We know how important protecting the environment is to the health of our citizens, the health of our economy, and the health of our state. We also recognize that preventing pollution and climate change also provides us with new economic opportunities," said Gov. John Lynch at a press conference introducing the program, which he said "will give the state the opportunity to work together with businesses to implement environmentally friendly policies that will help us address important issues such as climate change, greater energy efficiency and use of renewable energy. The program will allow businesses to implement environmental management policies proven to prevent pollution and create efficiency, which will also help reduce costs."
While open to all, the program is designed in particular for small businesses that may lack the knowledge or resources to address environmental needs. Prospective participants must have a good compliance record and be willing to work toward comprehensive environmental management, according to DES. They also will have to report the results of their work to DES.