Program helps students meet the challenge of leadership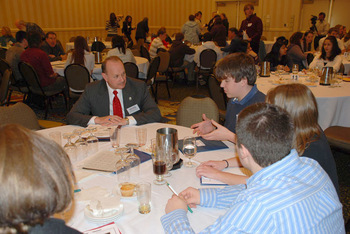 High school students from throughout New Hampshire are once again accepting the challenge of using acquired classroom knowledge as a conduit of change in their local or global communities as part of the 2008 Social Entrepreneurial Student Leadership Challenge. In the process, they are learning the kind of skills critical to their own personal and professional success.
"This program is really tapping a wonderful resource – the intellectual power of our kids," said educator Elizabeth Fletcher Foy, who co-founded the program with New Hampshire businessman Howard Brodsky, founder of CCA Global Partners and the Howard Brodsky Foundation and founding sponsor of the SESL Challenge. "It builds a connection between the kids, their classroom experiences, local businesses and the community."
Launched for the first time in 2005, the SESL Challenge marries experiential learning and social awareness in a way that empowers students to create ideas that will make a difference in their local or global communities. This year, 167 students representing 18 New Hampshire high schools are taking part in the challenge. The teams meet with volunteer business and community leaders and investigate the needs of their community – be it the school, town, state, nation or the entire world community — and, based on their findings, develop an initiative they believe would prove beneficial to their target area.
While participants are not required to implement their initiative, some have chosen to do so – and in the process have gone on to make great changes in their communities.
"A team from Pinkerton Academy introduced a program where student mentors pair up with disabled classmates, bringing them to sporting events and other social gatherings that would allow the disabled students to really be part of the school-wide community," Brodsky said. "This is now the biggest program at the school."
The eight-week challenge runs from February to April, culminating with the teams presenting their initiatives to a panel of judges at the SESL 2008 New Hampshire Northern and Southern Regional Final Challenges on Saturday, April 12.
The top six teams – three from each regional final – will receive plaques and earn the right to compete at the state finals on Saturday, May 10, where the top three teams will receive cash scholarships of $300, $600 and $1,000.
Teams will be judged on the established need of the proposed initiative, project goals and finances, marketing, creativity, social impact, realistic nature, quality of research and the presentation of their business plan.
"The students come away with what I really see as life skills – the ability to generate ideas, be socially conscious, manage and make presentations." Brodsky said. "They learn how to present and sell a concept and how to bring an idea to fruition."
"We're finding kids also come away with increased self-esteem, more confidence, a realization that they can make a difference and an understanding of the connection between what they are learning in school and its importance in the real world," said Foy.
Only in its third season, the SESL Challenge has been greeted enthusiastically by New Hampshire business leaders, educators and teachers, and Brodsky and Foy are hoping to see the program grow throughout New England, eventually becoming a national program.
Making connections
The SESL Challenge grew from the success of "Leadership Teacher," another program designed and introduced by Foy, which has been creating and nurturing partnerships among New Hampshire businesses and teachers since its inception in 2001.
By visiting host companies and talking to business leaders from a variety of industries, teachers are reawakened to the connection between the curriculum they teach and its real-world applications, returning to their own classrooms with a renewed sense of enthusiasm.
The importance of this connection is something Foy knows well. Labeled a "poor learner" at a young age because of an undiagnosed learning disability similar to dyslexia, Foy lagged behind her peers until 5th grade, when an attentive teacher saw through Foy's challenges and focused instead on her potential. This connection transformed Foy into a voracious reader and eager learner. She went on to graduate cum laude from Kenyon College in Gambier, Ohio, where she pursued a dual degree in chemistry and English.
Foy then studied biophysical biochemistry at Boston University before combining her love of science and humanities as a freelance writer for public television, where she wrote the accompanying teachers' guides for the famed PBS programs, "Nova" and "Degrassi Junior High."
A graduate of Leadership Greater Concord and Leadership New Hampshire, Foy went on to earn a master's in education from Plymouth State University, co-created "Teen Talk," a cable television show for a North Andover, Mass., audience, edited college-level science textbooks and wrote "Home Spun Fun," a family-focused activity book based on the childhood memories of parents and grandparents.
Before launching Leadership Teacher, Foy taught English at New Hampshire Technical Institute and oversaw the school's Nontraditional Initiative Scholarship Program and NASA Space Grant Scholarship Program and served as director of grants and new initiatives at the Academy of Applied Science in Concord.
"All of these experiences allowed me to see the importance of connecting the classroom to the real world," said Foy, herself a mother of three high school- and college-aged daughters. "When students see and understand the connection between what they are learning in the classroom and how it applies to the work they hope to do someday things click and they become excited. And that's what this is all about."
For more information about the 2008 Social Entrepreneurial Student Leadership Challenge or to get involved visit seslchallenge.org or contact Elizabeth Foy at efoy@leadershipteacher.org. To learn more about Leadership Teacher visit leadershipteacher.org.