Principal choice causes stir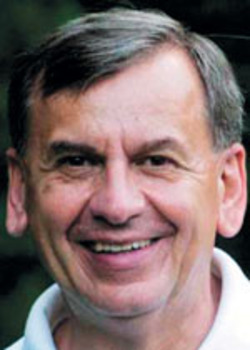 NASHUA – The appointment of a former Board of Education member and retired principal as an interim principal has drawn criticism from some school board members.
Interim Superintendent Ed Hendry told board members Monday he intended to appoint Charlie Katsohis as interim principal of Charlotte Avenue Elementary School.
The school's principal, Thaiadora Katsos, will be on maternity leave for eight to 12 weeks, Hendry said.The appointment of interim principals is done at the discretion of the superintendent, which means the Board of Education does not have authority over who is chosen to fill temporary vacancies.
Board members questioned whether it was more appropriate to fill the vacant position with another employee, given the district is in the midst of a financial crisis.
Board member Robert Hallowell said he had no problem with Katsohis but said the district needs to be questioning whether filling vacancies like this are absolutely necessary.
"I'm not sure in this fiscal environment whether that's the wisest choice," he said.
For board member Sandra Ziehm, Katsohis' hiring raised questions of whether a fair shot was given to others who may have been interested in serving as the school's interim principal.
"I just think that it needs to be a level playing field," she said.
Ziehm proposed the board look into creating a policy that addresses the hiring of retired employees.
Administrators defended their decision to hire Katsohis.
Board member Dennis Hogan asked administrators why they chose not to let assistant principal Tracey Cassady run the school during Katsos' maternity leave.
Hendry said that option was considered, but because Cassady splits her time between Charlotte Avenue and Dr. Crisp Elementary School, it wouldn't be fair to ask Dr. Crisp to sacrifice, as well.
Hendry said Dr. Crisp, a school with a high poverty rate, has made progress on testing recently and Cassady has been involved in several initiatives at the school aimed at keeping that progress going.
"Those kids deserve a chance to get off the list," said Hendry, referring to the state's list of "schools in need of improvement."
Hendry also said Katsohis was the best available option for Charlotte Avenue.
"I feel we lucked out having someone with Charlie's quality and enthusiasm available," Hendry said.
Katsohis resigned from the board at a meeting July 13. At the same meeting, Hendry told board members he would consider Katsohis for the Charlotte Avenue vacancy.
Katsohis said Tuesday he knew there were going to be openings available at the beginning of the school year and was hoping to fill one of them, which is why he resigned.
Katsohis said it was always his intent after retiring to find something on a part-time basis working in the school district.
"Down the road, with the election coming up, I knew I wasn't going to run again, so I thought maybe I should take this opportunity with openings at the beginning of the school year," he said.
Katsohis resigned just before the district's financial crisis came to light. Katsohis said that if he knew the board was going to have to deal with the budget shortfall, he wouldn't have resigned.
This isn't the first time Kastohis has been brought back to fill in for a principal.
Katsohis, who spent his entire 41-year career in Nashua, retired in the middle of the 2007-08 school year from his position as principal of Ledge Street Elementary School.
Shortly after retiring, Katsohis was brought back in an interim role at Ledge Street to fill in for his replacement, who took maternity leave.
Later in the year, Katsohis ran for a vacant seat on the Board of Education. The seat became vacant after Edwina Kwan resigned. Katsohis won a special election to serve the remaining 18 months of Kwan's term.
Eleven months into the term, Katsohis resigned from the board.
Katsohis will be paid $1,225 a week for the duration of the interim position, according to Human Resources Director Dana O'Gara.
That is the lowest rate on the principal's pay scale, she said. Katsohis will not receive any benefits, she said.
Because he is collecting from the state retirement system, Katsohis will only be allowed to work 29 hours a week.
O'Gara said his schedule will allow him to be at the building five days a week but working shorter days on Mondays and Tuesdays.
There have been other instances of retired principals being brought back to work in the district.
Most recently, longtime principals John Richard and Bruce Geer were hired for positions in the district shortly after retiring.
Although it doesn't apply to the school district, there is a city ordinance passed in 2001 that forbids former members of elected bodies, including the Board of Education, from working in a city position that requires aldermanic approval.
Because there was less than six months left on the term, Katsohis' vacant seat on the Board of Education will remain unfilled until the end of the year. The seat is one of four that will be up for grabs in the November city election.