Prices for recyclable material have dropped considerably, costing municipalities money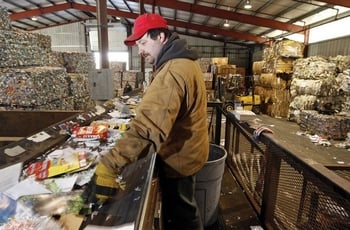 Municipalities that depended on recyclable materials adding money to their coffers have seen that revenue source take a hit recently.
For example, as Adam Clark, an operations manager at Northeast Resource Recovery Association, watched the value of recyclable materials plummet in the fall, he could only describe it with one word.
"Quick," he said, pausing. "Very quick. It was literally almost overnight. You'd come in the next morning and the value of the material was severely hurt."
While prices on recyclable materials remained high during the summer, October sang a different song. Prices have dropped dramatically since then, with some materials actually costing money to get rid of.
"The markets are still there," said Clark, an NRRA employee for three years. "Cardboard mills are still buying cardboard; paper mills are still buying paper; but the prices are still really low."
Now, town and state officials are trying to figure out what to do when there's little use for the reusable.
Clark said the pricing plummet began when China, a big consumer of the United States' recyclable materials, started canceling orders for them.
"When they stopped ordering from us, it flooded the domestic market, which brought prices down," Clark said. "It's all related to overseas recessions, which are directly affecting our economy."
According to the NRRA, during the summer, scrap metal sold for $275-$295 per ton, cardboard sold for $130-$150 per ton, aluminum cans sold for $.90 per pound and mixed paper sold for about $80 per ton.
Now, scrap metal is worth about $30, cardboard sells for $20, aluminum cans barely break $.40 a pound and mixed paper is hovering around zero – and, in some cases, it has negative pricing, which means it can actually cost money to sell.
"The biggest thing was that nobody had seen it drop that fast before, ever," Clark said. Recyclable materials "are a commodity, and we've seen it go up and down, but back then, $20 was a big movement. Now, to see it drop $40 or $60 a month is incredible."
While the drop is alarming, Don Maurer, a supervisor for solid waste technical assistance at the New Hampshire Department of Environmental Sciences, contends prices early in 2008 were unusually high.
"We're under average, but we're close to average," Maurer said. "I think those prices, in the long term, were unsustainable. People were buying a surplus of recyclable materials in the summer because they thought the prices were going to continue to go up.
"It's really turned into basic supply and demand."
Dropping prices will have an impact on those municipalities that rely on revenue from recyclable materials sales to supplement their budgets.
Sally Hyland, Nashua's recycling coordinator, said her department is prepared for the loss in revenue.
"We knew that the markets were starting to reduce when the budget was being developed this year," Hyland said. "We did reduce our anticipated revenue because our markets were starting to go down. We're hoping that some of the stimulus creates a need for our materials."
Hyland said the revenue budget for fiscal year 2008 was more than twice the fiscal year 2009 budget.
The town of Hudson, however, won't have to worry about any lost revenue, Public Works Director Kevin Burns said.
Hudson is in the second year of a five-year contract with Corcoran Environmental Services. Under the agreement, Hudson pays a fixed rate per ton of solid waste that's removed, and Corcoran takes away recycling for free and keeps any profits turned on the renewed materials.
"I've never been one to buy in to the idea that there's a pot of gold at the end of the recycling stream," Burns said. "The market is going to get full of it, and how much is the demand going to be for recyclable goods? It's like playing the stock market: It's a gamble."
Burns, public works director for 11 years, acknowledged that the market will fluctuate during Hudson's contract with CES, but right now he's confident in his decisions, adding, "I'm looking good right about now."
Despite discouragingly low prices, Maurer emphasized that it's still cheaper to recycle rather than just throw away reusable materials.
"Should we stop recycling? Absolutely not," Maurer said. "Right now, the typical cost is $75 per ton of solid waste, so even if it costs you $15 to get rid of some mixed paper, you're still saving $60."
Hyland said Nashua would continue to recycle regardless of market values, adding that it will help preserve the city's landfill.
"Anything that we can keep out of the landfill is to our advantage," Hyland said. "Diverting recyclables from land filling allows us to extend the landfill life for longer. So, keeping things out that don't have to be in the landfill is crucial."
Maurer said part of his job is convincing all 235 cities and towns in the state that recycling is still the most cost-effective practice.
"I think in some cases it is a challenge just getting their attention," Maurer said. "What we've been doing is educating people on the cost of disposal, and once they see that, they see the difference. We're seeing some fairly big cities and towns look at it so that they can control their costs."
With the scrap metal prices already showing signs of improvement, Maurer estimated the beginning of fiscal year 2009 "won't be fun," but he's optimistic that, by the end of 2009, renewable materials' prices will be on the rise.
"China is beginning to work through their supply, and as they get rid of the stuff they have, they're going to be looking at new markets," he said.
>>PRICE COMPARISON<<
This chart shows the difference in prices paid for different recyclable materials in the summer of 2008 and now.
Material…………………………Summer 2008…………………Present
Scrap metal………………..$275-$295 per ton…………..$30 per ton
Cardboard………………….$130-$150 per ton…………..$20 per ton
Aluminum cans……………$.90 per pound…………….$.40 per pound
Mixed paper……………………$80 per ton………………….$0 per ton or negative pricing
Source: Northeast Resource Recovery Association