President makes Gregg pick official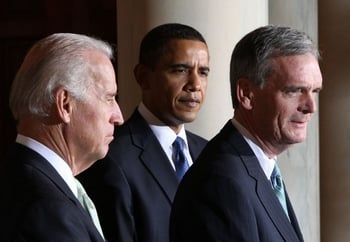 President Barack Obama said Republican Sen. Judd Gregg's record of bipartisan leadership and fiscal discipline made him the right choice to become his new commerce secretary.
"Clearly, Judd and I don't agree on every issue, most notably on who should have won the last election, but we do agree on the need to get our country back on its feet," Obama told reporters at the White House with Gregg and Vice President Joe Biden at his side.
Gregg, 61, had once chaired the subcommittee in the Senate that wrote the Commerce Department's budget.
Gregg called Obama's economic stimulus package pending in the U.S. Senate "extraordinary, bold, effective and comprehensive" and said these tough economic times call for bipartisan consensus.
"This is not a time for partisanship," Gregg said. "This is not a time where we should stand in our ideological corners and shout at each other. This is a time to govern and govern well."
Hours later, Gov. John Lynch quickly kept his end of a political bargain for Gregg to join the Obama cabinet in naming longtime educator and former GOP White House administrator Bonnie Newman of Portsmouth to Gregg's Senate seat. Gregg insisted his replacement be a Republican to avoid giving Senate Democrats a filibuster-proof majority on Capitol Hill.
"Bonnie Newman is someone I would have considered regardless of party," Lynch told reporters at a jam-packed news conference in the Executive Council chambers.
>> Know the Cabinet<< Newman, 63, said she had been splitting her time between the golf course and building a new Seacoast home when Lynch first approached her about the Senate seat two weeks ago. "I would never have predicted that we would be standing here as partners in service to this great place we call New Hampshire," Newman said after she had hugged Lynch, a 40-year friend. "I am humbled and I am honored and I am grateful for the governor's confidence in me." Sources said a Senate confirmation hearing on Obama's appointment of Gregg is being prepared for next week. It remains unclear whether Gregg will stay in his seat until the Senate votes on the $825 billion stimulus package. Gregg said while he remains a senator he intends to follow the lead of Vice President Joe Biden and not take part in debate or cast votes prior to his departure. Gregg is the only person in state history to have served as executive councilor, governor, congressman and US senator and now adds presidential administration to his resume. Lynch becomes the first New Hampshire governor to name a senator since December 1961, when then-Republican Gov. Wesley Powell named Attorney General Maurice Murphy to replace Republican Styles Bridges who died in office. Newman, who has never held elective office, said she had no interest in running for the seat in November 2010 - only to serve out the balance of Gregg's third term. "I think my first response was, 'Oh John, are you sure?' " Newman quipped of her first reaction to Lynch offering her the seat. Newman served in the Reagan and George H.W. Bush administrations most prominently as director of White House personnel and had been chief of staff when Gregg first went to Washington as a U.S. House member in 1981. She also led the Business & Industry Association and went on to become an executive dean at the Kennedy School of Government and interim president at the University of New Hampshire. "Bonnie Newman is one of true gems in our state," Gregg said. "She is simply an extraordinary individual who has brought common sense, decency and New Hampshire values to every job she has ever done." As a senator, Newman said her top priorities will be to help the nation recover in this woeful economy, preserve national security and keep business competitive with continued education reform. Gregg thanked Lynch for his "courtesy and courage" in honoring his wish that his temporary replacement be a Republican. The scramble for that open Senate seat is expected to kick off immediately as two-term, Democratic U.S. Rep. Paul Hodes is expected to announce that he would form an exploratory committee for Senate in 2010. Fellow, U.S. Rep. Carol Shea-Porter has also expressed an interest in the seat as has Katrina Swett, the wife of former U.S. Rep. Dick Swett. Prominent Republicans are likely to try and prevail upon ex-Sen. John E. Sununu to pursue a comeback and win this seat after losing his own last November to Democrat Jeanne Shaheen. Other potential GOP hopefuls could include former U.S. Reps. Charles Bass and Jeb Bradley. Gregg said Obama first called and met with him for about 45 minutes Jan. 16 to talk about the appointment that was first offered to New Mexico Gov. Bill Richardson last month. Richardson pulled out over an ongoing investigation into whether campaign checks influenced his state's award of a multi-million-transportation contract to a consulting firm. Gregg said he would help Obama negotiate with Senate Republicans to get bipartisan support on budget issues and other measures. "I think it is very clear that one of the reasons he nominated me to do this job was because he wanted different opinions at the table," Gregg said. Along with creating jobs, Gregg said his focus on Commerce Department would be on expanding scientific initiatives and doing more to protect the intellectual property of private business.