Praising Catholic education, Notre Dame grads are full of hope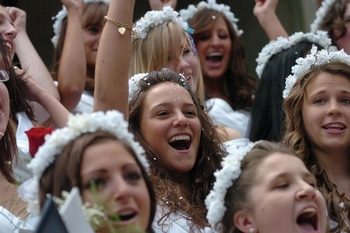 TYNGSBOROUGH, Mass. – As Sister Kathryn Lawrence McGuiggan gave the invocation for the Academy of Notre Dame graduation ceremony Sunday, she reminded those in attendance that "the Holy Spirit would never let a raindrop fall on this event."
While a few drops did fall, the nearly 300 family, faculty and well-wishers in attendance at the school were able to avoid the bad weather while congratulating Notre Dame's graduating class.
Each of the 39 girls from the class of 2009 will be attending colleges ranging from distant schools like the University of Tampa and Syracuse to nearby Nashua Community College and UMass Lowell.
Despite a smaller than average graduating class, the girls amassed a total of $2.4 million in scholarship offers – an average of about $61,500 per student, according to Dr. Karen M. Juliano, academy president. Girls in the graduating class received acceptance letters from 79 schools from across the United States, and 10 girls will be attending Catholic universities, Juliano said in her remarks Sunday.
"I think they worked very hard, "I think they worked very hard, and they have very good teachers," said Sister Patricia Conner, principal of Notre Dame Academy, after the ceremony. "I think I feel a mixture of happiness and sadness. It's sad to say goodbye to the seniors; it's nice to know we've just about wrapped up our work for the year. "
Rather than the traditional black robes and mortarboards worn at most public school graduations, the Notre Dame graduates wore sleeveless white dresses and floral arrangements, one of the differences at a Catholic high school, compared with public schools.
"The teachers always have us prim and proper, and so they wanted the graduation to be, too," said class President Maggie Blinn, a fall enrollee at Roger Williams College in Rhode Island. "(I think) a Catholic school prepares you more for the college experience than a public school would in terms of education. (Notre Dame's) unforgettable, unlike any other high school, a great education and a great experience."
Valedictorian and future Boston College student Stephanie Todis agreed with Blinn's assessment.
"I went to public school until eighth grade and then came here, and there's definitely a huge difference. You can just feel the sense of community and unity within Notre Dame Academy. They are a very talented class; I'm so proud of every one of them."
The graduates' parents, such as Debbie Day, mother of graduate Kathryn Day, also agreed that there is a large difference between public and Catholic schools. After seeing the first five of her seven children go through public schools, she enrolled Kathryn and her youngest in local Catholic schools. "(Notre Dame) has a much more moral background", said Day.
"Katie's going to Endicott and I hope she'll continue that background there." She was referring to the college in Beverly, Mass.
The close-knit community of the graduating class faced a spectrum of experiences ranging from a swine flu scare earlier this month to the throwing of an impromptu luau at 6 a.m. on the last day of school on the academy's front lawn.
"You can talk about whatever you need to talk about here," explained Conner, who finished her second year as principal and her 35th year in education.
"You can pray, you can talk about difficult things, you can take time out to do that, and you can take time out to share the happiness and joy. One of the differences between here and public schools is that we don't lose much time to discipline issues; pretty much all of the time in the class is instructional time. And I think that adds to helping them achieve what they need to achieve to go on."