Powerball jackpot gets locals dreaming of riches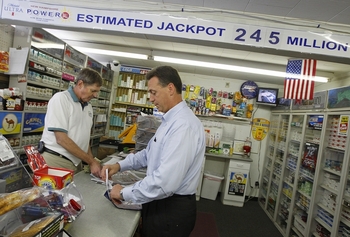 Powerball
Cruising around in your brand new Mercedes-Benz McLaren Roadster, you stop at a red light and glance at your sparkling diamond-encrusted Rolex.
Your joyride went a little long and you're two hours late to an appointment with your accountant to discuss how you should spend the $250 million prize you won in Wednesday night's Powerball drawing.
That's a problem everyone who filed into their local convenience store to purchase last-minute Powerball tickets on Wednesday would love to have.
If Wednesday's late night drawing produced a winner, the estimated $250 million prize – with a $125 million cash option – would be the 10th-largest Powerball jackpot ever awarded. That many zeros would buy champagne wishes and caviar dreams only Robin Leach could dream of.
So what would you buy?
"I'd buy an island," said Derrick Ferguson, as he left the Cumberland Farms on Daniel Webster Highway on Wednesday with several quick-pick tickets securely in hand.
For $6.5 million, Ferguson, of Groton, Mass., could purchase the Victoria Point Cays, two private islands totaling eight acres in the Bahamas. They come stocked with a two-bedroom cottage, a workshop and a boat dock.
Mary Bailat of Billerica, Mass., said she would travel to places like Australia and Hawaii and then use the money for her children's college funds.
"I'd probably help my family," she said. "I'm going to have four kids in college at the same time. They could go wherever they wanted."
Not a usual Powerball player, Bailat said that she only buys tickets when the jackpot gets high.
"I'm greedy," she said. "I'll be honest with you."
Several Powerball ticket buyers admitted they had no idea what they would do with all that cash.
But Peter Demont, of Chelmsford, Mass., had a plan.
"I'd be just blowin' money," he said. "Keeping the economy going."
His first move would be to upgrade the family car, a 1990 Ford. Though if he hits it big, he said you won't see him driving a Ferrari or an Aston Martin.
"Maybe a new Ford or a Lincoln Continental," he said. "Something American."
When the jackpot goes up, lotto ticket buyers come out
When Dumont was asked what would be the biggest splurge he'd make, his answer was immediate: "a big boat."
For a mere portion of the winnings, a paltry $39 million, Dumont could be cruising around the world's oceans in a 2007 model, 220-foot Shadow Marine Allure megayacht that's available on YachtWorld.com. Whether above deck or below, Dumont would have the time of his life enjoying the yacht's sky lounge, fully-equipped workout facility, movie theater and swimming pool.
He wouldn't blow it all though, he said.
"I would probably give something to my kids and encourage them to make it grow," he said. "Be an entrepreneur or something."
One word came to Todd Hamilton's head when he was asked what he'd spend the money on.
"Retirement," said the Leominster, Mass., resident, as he purchased eight Powerball tickets at Cumberland Farms.
After moving out of Massachusetts and picking up a new Mercedes, Hamilton said he would donate a large chunk of it to his favorite charity.
"I'd probably give a lot to the American Diabetes Association because my wife is diabetic," he said.
Others still, like Heather Edmiston and Vince Farrell of Hollis, said they would take a longer-term approach.
"I guess I would probably get a Corvette and a house by the lake and then throw the rest in bonds," said Farrell. "To have money for the future. The bad economy has taught us that."
Traci Hirko of Nashua, who stopped by the Bright Spot on East Dunstable Road in Nashua to buy $5 worth of tickets, said she would have the most fun giving the money away.
Hirko described what she calls her "what if" list of what she'd do if she won the big prize. Her husband comes from a family of six kids, so she'd pick a place for an annual family reunion, cover the cost of the event and hand out checks to family who attended. She said they'd also buy a vacation home in Florida, pay off her son's college education and provide money to their other kids as well as fund some favorite charities.
"Someone's got to win it, why can't it be me?"
Rick DeFelice, who bought $50 worth of tickets at the Bright Spot on Wednesday, said he'd "try to help out a lot of unfortunate people," both familiar and strangers. The father of five children and two grandchildren said he'd pay off mortgages and "make his children's lives a little easier."