Potter has literary pull, professor says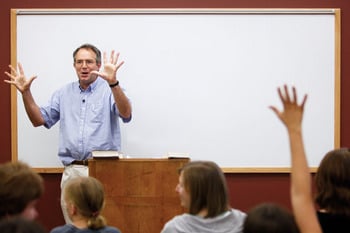 HUDSON – Harry Potter as David Copperfield or Jane Eyre? J.K. Rowling as Charlotte Bronte or Charles Dickens only with a dash of fantasy and a heaping scoop of horror?
Yes, according to James Krasner, an associate professor of English at the University of New Hampshire. Krasner spoke to about 25 people, mostly kids and young adults, at the Rodgers Memorial Library on Thursday about the literary underpinnings of the hugely popular Harry Potter franchise and what about it appeals so strongly to millions of readers and moviegoers around the world.
The novels, most of which are based at an English wizard school called Hogwarts, are a derivative of 19th century novels such as "Jane Eyre" and "David Copperfield,"and a popular British genre of prep school stories, Krasner said.
Like the protagonists in many of those stories, Harry Potter is orphaned a young age and is treated poorly by his adoptive family. Later, he goes off to a secret school where he learns about the wider wizarding world, makes friends, and, through hard work and talent, creates a good life for himself.
"That's what we want," Krasner said. "We want Harry to be happy and by the end of the story, that's what we get."
Many of Rowling's characters, including Harry's stout but less-than charismatic friend, Ron Weasley, and intelligent and stern companion Hermione Granger, along with the vicious potions teacher, Professor Snape, have direct counterparts in older, classic stories, Krasner said.
Harry's cousin Dudley Dursley sounds a lot like Jane Eyre's adoptive brother, and Hogwart's kindly and all-knowing headmaster, Professor Dumbledore, is a reflection of Dr. Strong in "David Copperfield," he said.
Other similarities come out in Rowling's themes, Krasner said, specifically that the books revolve around the conflict between the middle class idea that education can improve the lot of anyone willing to work and the aristocratic assumption that pure blood and old bloodlines are a greater benchmark of value.
"This is stuff that we're all still anxious about," he said.
But there's a lot of originality, too, Krasner said, which is one of the reasons so many people like the novels and movies. Another reason is rather simple.
"It's good. This is really good," he said. "I read a lot of literature. These books will be around in 200 years. It's not (William) Faulkner. It's not 'Jane Eyre,' but I do think we're going to have 'Alice in Wonderland' and 'Gulliver's Travels' and 'Harry Potter.' "
Rowling is good – much like Dickens – at telling sprawling, intricate stories with dozens of characters and, in the end, tying them together, Krasner said, which is always a crowd pleaser.
The books are also flashy and entertaining enough for young readers with enough ethically weighty themes, such as class warfare, to suck in teens and adults, he said.
"It's a book about parents and children that parents can read with their children," Krasner said. "I think it's harder, frankly, to present serious issues and be entertaining at the same time. To do that is really extraordinary."
Maybe most importantly, the first generation to grow up with the seven books, which began with "Harry Potter and the Sorcerer's Stone" in the late 1990s, also grew up with the Internet. Unlike fans of "Star Trek" or the "Star Wars" movies, super fans did not have to attend faraway conventions to talk with other fans and obsess over the minutiae of the series or float their favorite theory about what would happen next.
"The Internet is the perfect medium for this," Krasner said. That phenomenon is somewhat ironic, he said, because Rowling's wizard universe is intensely low-tech. Many wizards do not understand Muggle – or nonmagical – technologies like subways or telephones.
Krasner appeared at the library as part of UNH's Speakers Bureau program. The library's adult and teen librarian Amy Friedman invited him to speak less than a week before the franchise's sixth movie, "Harry Potter and the Half-Blood Prince," hits theaters July 15. "Harry Potter is so popular with all ages," Friedman said. "I thought it would be a good way to appeal to a wide demographic."
"The Harry Potter Phenomenon" isn't the only off-beat presentation Krasner gives. Friedman said he also gives talks titled "Crazy Cat Ladies," "Pets and Personal Space," and "You are the mess you make."
Joseph G. Cote can be reached at 594-6415 or jcote@nashuatelegraph.com.