Portsmouth's Portwalk project will have a 'green' footprint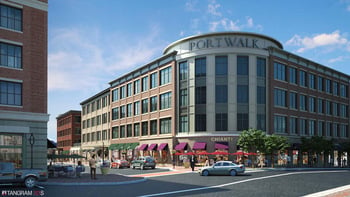 Construction is expected to begin in June on the much-anticipated Portwalk project, the biggest construction project in downtown Portsmouth in some three decades and what's expected to be the first LEED-certified mixed-use development in the city.
Built on the site of the former Parade Mall, Portwalk, a mixed-use development planned by Boston-based Cathartes Private Investments, will be designed to be pedestrian-friendly, with street-level shops, widened sidewalks, first-class office space, downtown residential opportunities and underground parking.
The project will encompass nearly the entire block between High Street and Maplewood Avenue, west of the Hilton Garden Inn, which also was built by Cathartes.
The development's four buildings will be constructed over a 350-car underground parking garage. Each building will feature retail on the ground floor, with space for 15 to 20 shops, cafés and restaurants. A 128-room extended-stay hotel will be developed over retail shops in a building along Deer Street. There also will be a total of 28 residences, offering a mix of one-, two- and three-bedroom units.
With a construction schedule of 18 months, Portwalk is such a large project that Portsmouth has made plans to hire a part-time employee to work as project liaison for the city.
While Portwalk's expected economic impact will be large, the developers are taking steps to make sure that its environmental impact won't be.
Jeff Johnston, principal of Cathartes, said the project has been designed "to complement the existing downtown business district, extend the pedestrian connection between the downtown area and what is considered the northern tier of the city, and bring significant financial and lifestyle benefits to the community."
At the heart of the project will be the main pedestrian Broadwalk, a one-way vehicular thoroughfare that will serve as the "gathering place" that connects each of the buildings. The Broadwalk will have wide brick sidewalks with trees, flowers, outdoor café seating and storefront access to each shop and restaurant.
Johnston said he hoped visitors would experience a "Newbury Street-type feel" when they sit down at the numerous cafes, window shop or conduct business in and around the development's four buildings.
With the help of Connecticut-based LEED consultant Viridian Energy and Environmental LLC, Cathartes will be pursuing certification under the LEED (Leadership in Energy and Environmental Design) Green Building Rating System, making it the first project of its kind to meet such standards in Portsmouth.
LEED is a nationally accepted benchmark developed by the U.S. Green Building Council for the design, construction and operation of high-performance "green" buildings.
Builders aiming to achieve LEED certification follow an integrated framework developed by the Building Council that is tailored to their kind of structure or project. The framework covers five key aspects of sustainable design and construction: site selection and development; water savings; energy efficiency; materials selection; and indoor environmental quality.
To earn certification, a building project must meet certain prerequisites and performance benchmarks within each category.
Cushman & Wakefield is currently marketing and leasing the commercial space at the site. Strategic Retail Advisors is handling the retail leasing.
Other members of the development team include Elkus Manfredi Architects, DeStefano Architects, Appledore Engineering, Sasaki Associates and Vanasse Hangen Brustlin.