Plane truth: Ownership of aircraft is in tailspin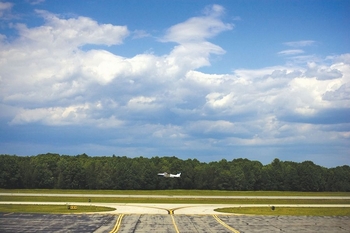 NASHUA – As the economy crashes, the sale of privately owned airplanes increasingly has been grounded.
"There are more planes on the market now than there ever have been," said R.J. Valentine, one of the owners of a Learjet based at Nashua Municipal Airport.
Partial ownership of the Lear 60 is up for sale at a price of $650,000, Valentine said.
The Learjet is advertised as being ideal for individual or corporate travel to the Caribbean or within North America. One-third to one-half ownership is available, meaning the buyer would share time with the other owners.
Planes like this have come on the market because of corporate or individual downsizing, which affects people at all income levels, Valentine noted.
"I don't care what level you're at – low, moderate or higher income. Things change," he said.
The advertisement, which ran in The Boston Globe and other publications, has generated a good response, Valentine said.
But that isn't necessarily the case for aircraft sales in general.
"A lot of them are for sale. Nobody's buying," said Royce Rankin, airport manager for Boire Field, the longtime name in aviation circles for Nashua's airport.
Actually, it isn't that no one is buying, Rankin said, clarifying his comments.
"We still have people coming in to register new ones, one or two a month," he said. "They're really shopping hard and getting good deals."
Small aircraft sales mirror housing sales in a way, Rankin said.
Planes aren't like automobiles, in that they don't rapidly depreciate in price, he said. Someone will buy a single-engine plane for, say, $65,000, and then want to sell it for the same price two years later.
The problem is, with the recession, buyers aren't willing to pay 2006 prices today, he said.
While it seems that no one in the industry – including the FAA – compiles statistics on airplane sales, the country's largest aviation organization is hearing anecdotally that many pilots are selling their planes, said Chris Dancy, spokesman for the Aircraft Owners and Pilots Association, based in Frederick, Md.
"We are hearing from an increasing number of members saying they're putting their aircraft up for sale," Dancy said. "The other side of that is people who are parking their planes. They aren't selling them – they're just not flying."
The collapse of gasoline prices that has been a bright spot in the economy hasn't happened with aviation fuel, at least until current reserves are depleted, Dancy said.
"It hasn't come down at the same ratio of auto fuel," Rankin said.
Small, single-engine planes, such as the Cessna 172, that burn only seven or eight gallons of fuel an hour are still selling, Rankin said. Slightly larger planes, such as the Cessna 182, that burn about 15 gallons an hour don't seem to be selling as well, Rankin said.
Currently, about 400 planes are registered at Boire Field. It's hard to estimate how many of those planes might be up for sale, Rankin said.
"Everything's for sale, as long as you get the right price," he said.
At Boire Field, there has been a slight change in the number of takeoffs and landings, Rankin said. The numbers were down 11 percent in 2007, but rebounded for a 7 percent increase in 2008, he said.
Daniel Webster College and five flight schools based at the municipal airport have helped keep business constant, Rankin said.