PLAN NH presents 2011 Merit Awards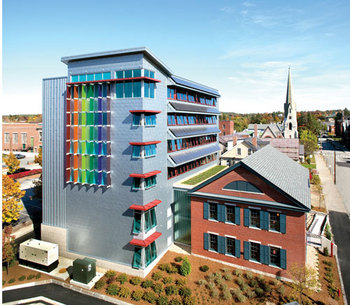 Four projects from around the state have been named winners of 2011 Merit Awards of Excellence from PLAN NH, an organization that promotes sustainable planning, design and development as well as "smart growth" principles.
Announced at a March 31 event at The Derryfield in Manchester, the winners were:
• 88 Lowell Street, Manchester. New Hampshire Institute of Art, owner. Designed by Dennis Mires, The Architects, and built by Milestone Engineering and Construction, construction manager. "The completed building utilized numerous sustainable features including a vegetated roof and rainwater harvesting of storm water runoff. All together, this mixed-use project has injected new life into this section of the Queen City," according to PLAN NH.
• The Flying Monkey Movie House and Performance Center, Plymouth. Alex Ray, owner. Samyn-D'Elia, project Architects. Construction by Conneston Construction. Interior Design by Diane Downing. "This project went beyond mere preservation, and is a true revitalization of a Plymouth landmark. Numerous sustainable practices during construction were utilized, including re-purposing some of the original architectural details of the building."
• Nubanusit Neighborhood and Farm, Peterborough. Nubi River Partners, owners. Designed by O'Neil Pennoyer Architects and built by Bruss Construction, construction manager. "This outstanding project is an innovative planned community approach to living, with multiple sustainable design and construction elements. The project preserved the agricultural land, minimized infrastructure and created a safe pedestrian environment for its residents" and "incorporates all eight of the NH Smart Growth principles including fostering neighborhood scale and community life," said PLAN NH.
• Hanover Co-Op Community Market, Hanover Consumer Cooperative Society, owner. Designed by UK Architects, with support from ORW Landscape Architects, Engineering Ventures and general contractor Trumbull-Nelson. "Not only is the project a good re-use of a former gas service station site, but the co-op utilized numerous sustainable materials during construction, met many of the smart growth principles and collaborates with local food producers to provide a marketplace for their products," according to PLAN NH.