Pizza shop owner wants to stay put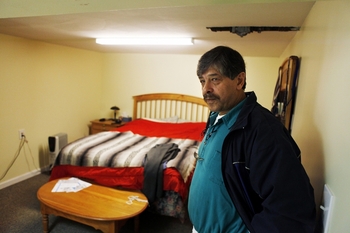 NASHUA – Luck has been escaping James Gotzamanis for several years now.
His pizza shop hasn't made much money and he blames the financial strain for the breakup of his marriage. He missed his father's funeral because he couldn't afford to fly home to Greece, and he's due in court Thursday to explain why he's behind on child support payments.
But the unusual twist to Gotzamanis' story is what happened after he was evicted from his apartment two months ago.
Facing $6,000 a month in business expenses and sales that have declined 60 percent since the onset of the recession, he moved into the basement of his pizza shop, Nashua's Canal Street Pub and Pizza.
Gotzamanis, 54, said it's the only way he can afford to keep paying the restaurant mortgage and utility bills. The alternative, he said, is living in his car.
"The reason I did it was because I had to," he said. "Every dollar that comes in the store goes to pay bills."
City officials, however, say the living arrangement is a violation of local ordinances. The basement bedroom was discovered during a routine health inspection three weeks ago, and Gotzamanis has received a written order from the Fire Marshal's office to remove "all living arrangements" from the basement.
As of yet, he hasn't.
"I have no way of getting out because I have nowhere else to go," Gotzamanis said.
From bad to worse
Gotzamanis was born in Thessaloniki, a seaport town in Northern Greece. He left home at age 14 and later joined the Greek army. About 30 years ago, he made his way to the United States and settled in Lowell, Mass.
He speaks quickly and directly, without mincing words. He still has a slight accent, and describes himself as a straight shooter who is not looking for sympathy, just a break.
Gotzamanis has owned other pizza shops, including one in Bedford, Mass., for 10 years, but Canal Street Pizza is the first to come so close to failure, he said.
When he bought the place six years ago, he thought the location was ideal because it was so close to BAE Systems, a defense company that is one of the region's largest employers. But he later found out that employees only have a half hour for lunch, and the neighborhood has deteriorated since then, Gotzamanis said. Business was never great, but it was better before the recession hit, he said.
Gotzamanis moved into his basement apartment two months ago. About three weeks ago, a health inspector noticed the locked door that leads to his bedroom, and asked him what was inside.
Behind the white door, in an otherwise dingy basement, is a surprisingly clean and bright room that looks newly renovated. There's a bed with a red comforter that's been neatly made, a dresser decorated with family photos, a nightstand, even a closet.
The basement steps are out of sight from customers. A narrow staircase from the kitchen leads downstairs to what was probably intended as a storage area.
"See, does this look like a bad place to live?" Gotzamanis said Tuesday, offering a brief look inside the room.
One week after the health inspector's visit, Gotzamanis got a visit from the city's code enforcement team, who took pictures of the room. A week after that, last Friday, the Fire Marshal's office showed up to issue the order that he stop living there.
Nelson Ortega, the city's code enforcement officer, said his office inspected the building after receiving an anonymous tip that someone was living in the basement.
"Did we go out and look at the property? Yes we did," Ortega said. "It is a life safety issue. It is a fire code issue."
However, because the building is a commercial property, code enforcement was outside of its jurisdiction. So Ortega referred the matter to the Fire Marshal's office for further review.
"We just furnished the information to the Fire Marshal," Ortega said. "Last we heard is they have made contact with him."
Constructing a solution
This is not the first time Nashua Fire Marshal Rick Wood has discovered someone living in a commercial building. Financial hardship is usually to blame for this type of living arrangement, which the city catches onto about once or twice a year, he said.
"We've had sleeping arrangements in many restaurants that we've had to address, as well as other businesses."
Wood said he could not speak specifically about the Canal Street Pizza situation, but agreed to speak generally about the danger of living in a building that isn't designed for residential use.
"Should there be a fire, certainly emergency response folks wouldn't be expecting to find people in a basement," he said. "Someone could get trapped."
There are no windows in Gotzamanis' basement bedroom, and the only exit is the set of stairs leading up to the kitchen. Residential units are required to have more than one emergency exit.
Wood said the city is not opposed, generally, to a portion of a commercial space being used as a residence. But the owner has to follow the proper permitting process, which could include inspections, planning or zoning approvals and improvements to the space.
In Gotzamanis' case, securing the proper permits would almost certainly cost money. He would have to create another exit, at the very least, which would involve some construction.
But he said money is so tight right now, he's having trouble affording everyday items. He rarely leaves the pizza shop, unable to pay for entertainment during the window of time he has in between work as cook, bartender and owner.
"I just want to be left alone by the town to let life take its course," he said.
According to Wood, the next step after issuing a written notice to move out is for the Fire Marshal's office to spend some time working with owners to address problems and get them to rectify it. If that doesn't happen, the owner is taken to court, he said.
Gotzamanis said he's going to wait until that happens to move out. His car mechanic, a trusted friend, told him the process can be lengthy and suggested waiting it out if he can't afford a new place.
Ashley Smith can be reached at 594-6446 or asmith@nashuatelegraph.com.