Pitching new wine, Aykroyd draws crowd at Nashua store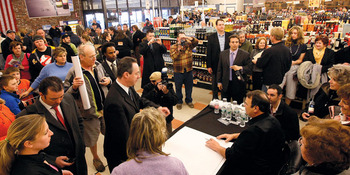 NASHUA – One of the original Blues Brothers now focuses on the red and white – wine that is.
Dan Aykroyd, who has appeared in dozens of movies, including pop-culture heavyweights like "Blues Brothers," "Ghostbusters" and "The Great Outdoors," made an appearance at the state liquor store on Coliseum Avenue in Nashua on Tuesday to sign and promote hundreds of bottles of his new line of wines.
An estimated 700 people began lining up more than two hours ahead of Aykroyd's 3:30 p.m. arrival. The crowd exceeded expectations, according to Liquor Commission spokesman Scott Spradling. In fact, other liquor stores in the state were sending more cases of the wine to Nashua to keep up with the demand, he said.
Mark Loulakis, a Nashua resident, posted himself in front of the store with his 1977 Plymouth Gran Fury, custom painted to look like the famous 1974 Dodge Monaco from "Blues Brothers."
When Aykroyd arrived, driving himself, he made a beeline for Loulaskis and his car, adding his signature to that of Judy Belushi, wife of Aykroyd's co-star in the movie, the late John Belushi.
"It's the blues, man, it's the blues," Loulakis said.
Loulakis bought the car two years ago for $2,700, drove it 1,800 miles to New Hampshire from Roswell, Ga., and spent another $1,100 outfitting it to resemble its famous cousin. Now he takes it to car shows and lets people, mostly kids, sit in the front seat wearing Blues Brother-esque shades.
"It's a little thing I can give back and maybe have kids enjoy the blues," Loulakis said. "It's a fun ride."
When he was done with the car, Aykroyd turned, bellowed "Santa's here," and made his way inside to a store mobbed by wine and Aykroyd fans, like Diane Labonte, of Nashua, and her neighbors, Dennis Gallien and Denise Conglin. Labonte and Gallien bought six bottles each, and Conglin bought another two.
"We all love his movies, so we'll get some signed bottles of his wine," Gallien said.
"Not a lot of celebrities come to Nashua," Conglin said. "And he's not bad-looking either. That doesn't hurt."
Gallien and Labonte weren't the only ones with an arm- or cartload of wine. Several people clutched several $19.99 bottles of the Cabernet Sauvignon or Chardonnay, while others grabbed a case.
Around 1 p.m., Jamie Dube, a Hudson resident, grabbed just one bottle and parked himself at the head of the line, which began near the rum and snaked its way through a dozen aisles to the champagne in the opposite corner,
He was more interested in meeting Aykroyd than the wine and plans on displaying rather than drinking it.
"I grew up watching Dan Aykroyd," he said. "He's been a character in my life since I was 14 or 15."
Dube said his favorite Aykroyd flick is "Blues Brothers" or "Blues Brothers 2000."
"Blues Brothers" and "The Great Outdoors" were most often cited as favorites.
Aykroyd began his promotional tour Feb. 7 and said the New Hampshire leg was one he's been looking forward to.
"I'm Canadian, so I enjoy trees and rocks and lakes," he said. "We generally create excitement where we go. It's been awhile since we had a crowd this big."
Aykroyd said he "backed into" the wine business when he worked with a distributor to bring Patron Silver, a premium tequila, to Canada. He visited the distributor's Niagara vineyards and they convinced him to put out his own line of wines.
Nicole Brassard, a wine marketing specialist for the Liquor Commission, said Aykroyd's is the best celebrity wine she's had.
"The wine is great," she said. It's "really good with food. He says you've got to pair it with a burger."