People still gambling, but many seem to spend less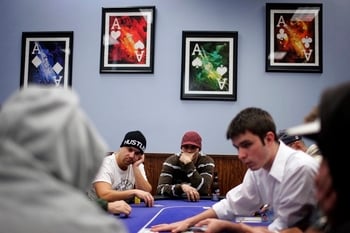 MILFORD – Brok Griffith, a 22-year-old restaurant worker, went to The River Card Room in Milford to play in a $10 poker tournament. A few years ago, he might have plunked down four times that amount.
The deepening economic recession hasn't sent card players packing, but by most accounts they are spending less, both in card rooms and at convenience stores where they buy state lottery tickets.
"This has been a hard recession" for the gambling industry, said Jim Rafferty, owner and operator of The River Card Room, who has spent more than three decades in the business. "The recessions of 1987 and 1992 both affected the industry, but this recession seems to have impacted it a little more."
For the most part, that means fewer players betting less money. Unless a gambling addiction is involved, most players have less money to spare after paying off their basic obligations, like rent, gas, food and electricity.
Of course, the lure of winning is attractive, but the prospect of losing is equally daunting.
Griffith, the 22-year-old restaurant worker, said he plays cards for pleasure, not to change his financial situation, and stays within his budget.
"I'm careful about what I spend," he said. "This is entertainment. Some people go the movies, I play cards."
And with increased gambling opportunities here and away, including state lotteries in 48 states, there's more competition for the public's entertainment dollars, which has dispelled the notion that gambling is recession-proof.
That concept stems from a time when gamblers were limited to horse racing and a few Nevada resorts. Now, casino-goers are spending as much or more for entertainment and lodging, according to some industry experts.
Nationally, the number of states that are reporting a drop in gambling revenue continues to increase, from about half of the 19 states with casino or race track gambling in 2007 to about 12 of the 19 states in 2008, including Nevada.
Rafferty, who teaches a course in casino management at the Whittemore Business School at the University of New Hampshire, has introduced recession-fighting specials like the $10 tournament. Players put down a ten and may "re-buy" into the game two more times, at $10 for each re-buy.
"There's been a move to pennies in the slots," Rafferty added.
"The penny move is definitely a reaction, how you let players play what they want to," he said. "People are playing less, but we still have great activity."
Rafferty said receipts were off by between 20 percent and 30 percent in September, following the 9,000-point drop in the stock market.
A week later, business began picking up. By the week of the ice storm, he estimated they were off about 5 percent.
Game of chance
In New Hampshire, the number of people at the gaming table and buying lottery tickets has fluctuated, but has not shown evidence of a sharp decline.
Neither a weakening economy nor an increase in housing foreclosures, or more applications for public assistance has significantly reduced the number of customers buying state lottery tickets, according to clerks and state data.
What has changed is how much players are willing to risk in exchange for the hope of a win.
Like the card room players, lottery ticket buyers say they are buying fewer and less expensive tickets.
Some appear to be digging deeper into their pockets to finance their entertainment.
"I'm seeing a lot of change. They're digging into their drawers for change," Charles Bouyounes, an owner of the Milford Penquin Mart observed.
Bouyounes was unable to say if customers are buying more, or fewer, state lottery tickets. His machines were broken for several weeks.
"They're not buying as much gasoline," he said, attempting to make a comparison between scratch ticket sales and other purchases.
At Merrill's Convenience Center, clerk Kathy Chapman said customers are still buying scratch tickets and Powerball tickets, although they are spending less for them.
"It seems to me it's slowed down a little bit," Chapman said. "We're not selling the $30 tickets at all."
The store clerk said the economy hasn't put a crimp in the buying habits of regular lottery ticket customers. What she has noticed, however, is that "there aren't a lot of new people."
In Brookline at the Route 13 State Line Convenience Store, which is known for its high volume state lottery ticket sales, business was brisk one afternoon during the recent ice storm.
Customers, who formed a line that moved quickly, were buying cigarettes, chips, beer, tobacco rolling papers – and lottery tickets.
Amherst resident Liz Lewis, a bookkeeper who was working at the store, bought a Powerball ticket and a $5 scratch ticket.
She said the recession hasn't changed her lottery spending habits, mostly because she and her husband have jobs and haven't felt the effects the slumping economy.
Hoping for a winner
Store clerk Pam Fedora, a Milford resident, said she's heard that hard times boost lottery ticket sales.
"I've been told it's better because people are down and out, and they're hoping to get a fast buck," Fedora said. "It's what keeps them coming back."
Fedora said she's been selling tickets in all denominations, everything from $1 cards to $30 ones.
"I've been buying the same number," said a customer who declined to give his name. "I wouldn't want to change my losing streak."
Convenience store owners and clerks in Greater Nashua reported a slight decrease in lottery ticket sales.
"We were off by about 100 people last month," said Norman Pinard, a clerk at the Haffner's Kick Stop on Lowell Road in Hudson.
At Zee's convenience store on Railroad Square in downtown Nashua, owner Zia Hussain said ticket sales have been dropping over the past six to eight months.
"They walk by my door and go to the Upper Room," Hussain said of foot traffic headed to a local mission that provides food, clothing, and services to the city's most needy residents. "They don't stop because they don't have even a dollar to spend."
Dan Burtis and his friend, Buck Merrill, former roommates at Keene State College, were among an estimated 50 players at the River Card Room the night of the ice storm.
Burtis, an outdoor education specialist who lives and works on a ranch in Austin, Texas, was visiting Merrill.
The two, who share a passion for card games, said if times were better they would probably have traveled to one of the Connecticut casinos, the popular Foxwoods Resort Casino or Mohegan Sun, both operated by Native American tribes.
Instead, they chose to stay close to home for an evening's entertainment.
"When times get tough, people are looking to spend less," said Merrill, a high school social studies teacher in Peterborough. "They're looking for cheaper games.'
Dealer Daniel Varnum, 23, said he hasn't heard patrons complain, or even talk, about the economy.
But then Varnum, who has a second job as a timber framer, wasn't thinking about the slowdown in his business while waiting for customers.
"They're concentrating on the game," the Lunenburg, Mass. resident said.
And so was he.