Pennichuck hires sentry after gun incident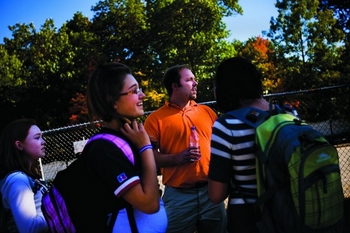 Having once been a student at Pennichuck Middle School, Nathan Moreau used to walk across the footbridge over the Henri Burque Highway so he could get home. "Same bridge, same school," said Moreau, now 27.
Now it's Moreau's job to keep an eye on the bridge as students leave school for the day.
After concerns about student safety in the area came to a head last week, the school district has responded by posting a school employee in the area every day after school.
On Sept. 19, a student armed with a pellet gun threatened a 13-year-old student to fight a second student or get shot.
The incident took place on the footpath just over the bridge, out of sight of the school.
Three students have been arrested and will face charges in juvenile court. The students who started the fight were suspended after admitting they brought a pellet gun into school.
Superintendent Christopher Hottel said the school should have notified parents immediately when it was learned that a pellet gun had been in the school. Not doing so was "a lack of judgment on my part."
A letter was sent home Wednesday of last week.
Hottel said parents would always be notified in the future when it's known a weapon was in the school.
A letter was sent home Wednesday of last week.
Hottel said parents would always be notified in the future when it's known a weapon was in the school.
But parents still questioned how the school would ensure that the area is safe for students who have to cross the bridge to get home.
Hottel said he met Monday with administrators from all three middle schools, parents from the Pennichuck PTO and representatives from the police department to come up with ideas.
"We all agreed that, yes, there are issues at all of the middle schools," he said. "But none have the same setup at Pennichuck."
That meeting yielded the decision to pay someone from the school to stand outside and keep an eye on the area, he said. Moreau, a special education paraprofessional, was picked for the job.
"He's an employee who knows the kids," Hottel said. "He'll be out there every day."
Hottel said he made the decision to authorize funding for the position, but will still go before the school board to make them aware of the plan. Moreau will be paid an hourly rate of $16.17 to keep tabs on the area after school. Moreau, who can communicate back to the school, started his post Tuesday, and said that so far, things have been going smoothly.
Part of that might have to with the deterrent of his presence, he said.
"A lot of it is about making sure the kids know you're out here," he said.
He is in his first year as a special education paraprofessional at the school.
Up until this year, he had been working in landscaping. Then he made the decision to get involved in education, and he is hoping to become a teacher.
As Moreau made his way to the other side of the bridge Friday just before school let out, Nedra Jasper, a parent waiting near the bridge for her daughter, stopped him to tell him about two girls that light up cigarettes when they get to the other side of the street.
Jasper said the girls intentionally blow smoke into her face. Moreau said he thought he knew the students she was talking about and that he would keep an eye out for them.
"I'll take a walk down there and see what I can do," he told her. Jasper said she was pleased to hear the school was putting someone out there to monitor what goes on. But she also said there's only so much the school can do when students leave the property. "They can't baby-sit them," she said, "but where are the parents?"
There was a steady flow of students that walked over the bridge on their way home Friday afternoon. But Jasper said there are only a few parents who wait outside to walk their children home.
As he stood on the other end of the bridge greeting students, Moreau said many students at the school are dealing with issues at home and that has an impact toward their attitude in school, he said.
Moreau said one student asked him what happens if a bunch of students try to jump him. Moreau, who is 5-11, weighs 240 pounds and plays semi-pro football, laughed. He assured the student that he could handle himself.
He said there is a gray area over where his responsibilities end and where police and parents need to get involved. Moreau was watching the bridge for about 45 minutes Friday, until it looked like all the students had left.
Hottel said he discussed the decision with the city's legal department and was assured that the employee, although not on school property, would still be covered by insurance.
Hottel said there is still a need to look into the possibility of having additional police officers stationed at the schools. Those positions are paid out of the police department's budget.
Last year, one of the SRO positions was cut. Prior to that, there was one officer assigned specifically to the three middle schools.
Now, there is one officer assigned to all of the middle schools, in addition to 12 elementary schools.
Each high school still has two police officers working in the schools.
Paul Asbell, principal at Pennichuck, said his hope is that having Moreau out in the area of the bridge will help make students feel safe.
Asbell, who apologized to parents last week for the way the situation was handled, said the school has been focusing discussion in its advisory program on issues such as bullying and encouraging students to feel safe about talking to adults.
Each class was given a script of last month's incident and discussed what lessons could be learned from it.
"One lesson was that people knew this was going to take place, but no one came forward and talked to any adults," he said.