Peanut issue drives some nuts, but others agree it's necessary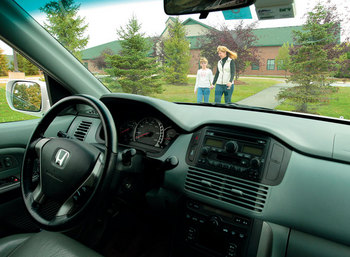 BROOKLINE – Fifth-grade teacher Renelle Stone made the rounds in her classroom at the Captain Samuel Douglass Academy last week, asking the same question over and over again.
"May I see this please?" Stone asked gently while standing beside a girl who opened a purple lunch box.
The lunch box contained a banana, a yogurt smoothie and a bagel – foods that comply with the school's life-threatening allergy policy. With an approving nod and a smile, the teacher moved on to the next pupil.
The checks – done in each classroom before the school day begins – have become routine since January, when the school board established an interim policy that allowed the town's two elementary schools to set up food safety procedures based on the needs of the student population.
Last week, the school board voted unanimously to officially adopt the policy. At Captain Samuel Douglass, which houses grades 4-6, there are two children with allergies to nuts that are so severe they could die as a result of mere contact with the substance.A face-to-face encounter on the playground with a child who has just consumed a peanut butter sandwich, for example, could send an affected child into life-threatening, anaphylactic shock.
Indeed, one of the pupils has been rushed by ambulance to the hospital several times as a result of inadvertent contact with trace amounts of peanuts.
The procedure in place directs children to check their lunches in the morning, under a teacher's supervision, and to trade any snacks that may have peanut traces for alternatives, available in the office. Since the procedure took effect in January, the school has spent about $10 for substitute snacks that are kept in the office, according to School board Vice Chairwoman Beth Lukovits.
While school officials believe the procedures are necessary, some parents argue the lunch box checks and the accompanying ban on not only food containing nuts, but also foods produced in plants that also make peanut products, referred to as "cross-contaminated" foods, go too far.
"It's a controversial issue and a lot of people are afraid," said Mary Kay MacFarlane, a mother of three, including one child who attends Captain Douglass. "They don't want to be labeled a child killer, but we need a policy and procedures that keep the child safe and are in the best interests of all the children."
A former secretary to the school board, MacFarlane resigned from her post last month in protest over the lunch box checks and ban on cross contaminated foods.
She and her husband, Andrew, also circulated a petition that objects to the lunch checks, which they have described as "search and seizure." In addition, the couple is sending their daughter to school with money to buy lunch and snacks, rather than vet the ingredients in her lunch box, and they are taking her home for lunch on the days when she doesn't like what's on the menu.
MacFarlane said her daughter told her last week she plans to go home for lunch every day until the middle of the month, a decision based on the posted menus.
MacFarlane has argued that the Food Allergy Network, a national advocacy and educational group, opposes peanut bans, saying they promote a false sense of security.
Principal Lorraine Wenger and the school board disagree, as do some parents.
Different procedures
The policy adopted last week does not require specific procedures, such as the nut ban and lunch check. Instead, it mandates that administrators respond to the needs of individual pupils and review the procedure annually.
Officials said that the physician of one of the children with severe allergies recommended the restrictions currently in place at Captain Douglass.
The Richard Maghakian Memorial School, which contains the lower elementary classrooms, has less restrictive procedures: a nut-free section of the cafeteria and designated nut-free classrooms.
Lukovits, who is also the parent of elementary school children in the district, said she believes the daily lunch box checks and the ban on peanut-related products benefits the entire school population, not just the children with life-threatening allergies. In addition to nutrition education – fostered by reading labels that reveal sugar, salt, fat content and more – children also learn some important life lessons, Lukovits said.
"It's a not a negative," she said of the food restrictions.
Lukovits said her children enjoy peanut butter at home, but eat all food only in the kitchen. They have also learned to wash their hands and brush their teeth afterwards, to avoid exposing visiting friends who may have allergies.
"Some days, you don't get what you want," Lukovits said she is teaching her children.
Seventy-five town residents signed the petition that MacFarlane and her husband circulated last month and presented to the school board last week.
"People are not happy with the policy, and people want it changed," MacFarlane told the school board earlier last month, after resigning in protest from her job. "Where does it end? In a food-less school?"
Other parents, including Nicole Tiffany, the mother of a fifth-grader who does not have food allergies, support the restrictions wholeheartedly.
"I think it's very necessary. It's such a life-threatening situation that I can't imagine putting any child at risk," Tiffany said, adding that she knows one of the affected children, neither of whom has been identified by the district.
"If I didn't, would it make a difference?" she continued. "Absolutely not!"
'Peanut safe'
After the school board passed the allergy policy, school administrators posted red signs with white letters informing visitors that Captain Douglass is a "peanut safe" school.
Wenger, the principal, said the sign makes the distinction between nut-safe and nut-free, a measure intended to encourage vigilance. Boy Scouts, Girl Scouts, recreational sports leagues, including visiting teams unaware of the allergy issue, use the building after hours, and although the custodial staff disinfects doorknobs, desks, floors and other surfaces throughout the building, no one can be sure that there isn't a trace of peanuts somewhere.
Indeed, everyone at the Captain Douglass Academy, from secretaries and support staff to custodians and parent volunteers, understands that for children with extreme sensitivities, exposure to a mere trace of peanuts can cause anaphylactic shock, and possibly death.
"We had peanut-free tables, hand wipes in the classrooms, peanut-free classrooms and it wasn't enough," said school board Chairman David Partridge, emphasizing that the current lunch box checks and ban on cross-contaminated foods are "based on a conversation with the child's doctor, to ensure safety."
Wenger said schools have been dealing with peanut allergies for at least a decade, a situation that appears to be affecting a growing number of children every year.
Brookline isn't the only community, either.
Last year, for example, the Nashua Pride baseball team created a peanut-free bleacher section in response to a parent's request. The Pride agreed to wash down the seats in the section before and after games, a gesture that allowed a young baseball fan with life-threatening peanut allergies to attend games.
Wenger said she knows of one local school that is dealing with similar allergy issues by allowing food only in the cafeteria. The rule reduces the risk of peanut exposure in other parts of the building.
"It's an inconvenience for everybody, but we realize the safety of a child depends on our vigilance," Wenger said, adding that she no longer buys bakery products to bring to teachers' meetings, opting for fruit or homemade coffee cake, guaranteed to be nut-free. "The main goal is to provide as safe as possible a school, so that children can learn without distraction."
Lukovits, the school board member, said, "It's hard to focus on your studies if you're worried that somebody sitting next to you is eating a sandwich that can kill you."
Controversial issue
Wenger said most parents "have been terrific" about cooperating.
That doesn't mean that the issue hasn't flamed emotions or stirred controversy. Previous stories on the procedures have drawn dozens of comments on The Telegraph's Web site, as well the Web site of WMUR-TV, which has also reported on the issue.
When The Telegraph requested permission from the school district to go into a classroom to photograph a typical lunch check, Superintendent Susan Hodgdon declined, saying the short notice of the request – fewer than two days – wasn't enough time to get permission slips sent out to parents and returned.
Hodgdon also said officials were concerned about "roiling the waters further."
Still, the lines aren't clearly drawn.
Katrina Bertrand, for example, the children's librarian at the public library, signed the petition even though she supports only one of the two procedures being questioned.
The mother of three young children whom she home-schools, Bertrand said she favors the lunch box check, but questions the ban on all foods produced in a plant that also makes foods containing nuts. She also cited the recommendations of the Food Allergy Network, the advocacy group that recommends against banning the so-called cross-contaminated foods
"When I was talking with Mary Kay (MacFarlane), she said how horrible the lunch checks were, and I said, 'Let's have a discussion,' " Bertrand said. "I don't necessarily think they shouldn't look."
"I've made a mistake before when I was in a hurry and packed something with peanuts in it," she said, referring to a time when one of her children was attending a private school. "Thank goodness the teacher noticed that."
Bertrand said she signed the petition hoping it would lead to continued dialogue.
"I think we still need to find a happy medium," she said. "I think it goes a little too far."