Pawsitively Pets Expo brings out animal enthusiasts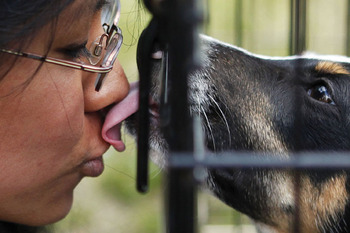 It was all about "pawsitivity" on Saturday as families brought their dogs of all ages, sizes and breeds to the first Pawsitively Pets Expo at Nashua Community College.
A standout dog was Eikon, a caucasian mountain dog that weighs 150 pounds and is jokingly called a "polar bear" because of his size.
"He's an excellent dog," said Eikon's owner, Marielle Brown, of Hudson, who was there enjoying the day with her husband, Doug Brown. "So far, so good."
Marielle Brown said they made it only a few feet into the expo before people stopped them to ask questions about Eikon. Eikon was soon sitting patiently as people of all ages ran over to pet him and dogs came over to sniff him.
"He's great with people and great with other dogs," Marielle Brown said.
The expo was a collaboration among The Telegraph, PetSmart and Pet Scoop Plus, and the money raised from the 50/50 raffle was donated to the Humane Society for Greater Nashua.
Riverside K-9 was there with an agility course and some dogs that gave demonstrations, and there was face painting for kids, a kiddie pool filled with water for thirsty dogs, a dog walk and a Hudson Police K-9 demonstration.
"We met a bunch of dogs and had a good time," said Jim Taylor, of Merrimack.
Taylor brought his 9-year-old golden retriever, Abbey, and said it was "kind of remarkable" how well the dogs were getting along.
He went on to say that he got a few ideas from vendors on how to care for Abbey in her senior years, and that his daughter Tanya, 12, will insist on coming to another expo in the future.
"It was excellent," he said. "A good idea."
With some families coming dog-less to enjoy the weather and see all the dogs, the petting farm from McDonny's Farm in Derry had children excited.
"The kids love it and the dogs love it," said Kathy Lisk, of Concord, an employee at McDonny's Farm.
Lisk and co-worker Meghan Thornton, of Windham, said the response to the expo was great. The kids enjoyed being able to get so close to bunnies, ducks, chickens and a goat.
They even laughed about a moment when a dog got too nosey, sniffing around the duck cage and causing the ducks to attempt an attack.
"Seeing the kids' faces light up" was Thornton's favorite thing about watching the children with the animals. "Even seeing the dogs light up."
Two dogs – a puggle, Maya, and a border collie, Flash – played with each other, and their growling caused some confusion.
"They love each other. They're best friends," said Melissa Recinos, of Milford.
Recinos was there with Maya, her son Demetri, 6, and her friend Melissa Kempt, of Greenfield.
Kempt brought along Flash, from a Rhode Island kill shelter, and her daughter Abbigayle, 20 months, and said she was happy to bring the dogs somewhere that's also enjoyable for children.
"We're so excited," she said. "I'd come again."
Available at the expo was an opportunity to adopt some animals. The Humane Society brought along some dogs, a couple of kittens and a rat.
The rat was adopted less than two hours into the event, and some of the dogs were being considered.
"I think it's been a great success," said Natalie Doyle, director of development and public relations for the Humane Society. "We're thrilled to be here."
Doyle, of Nashua, said they were appreciative of being the chosen organization to receive donations because they're in need of dog collars and IAMS dog and cat food.
People were generous enough to bring donations to the event, and like the rat, three of the four dogs the shelter brought were adopted.
"There was a ton of activity," Doyle said. "A tremendous turnout."
Some of the vendors that participated were Tee Shirt Bodega, Pet Tech and Transport Services, Cloud K-9 Dog Grooming and Dog Boarding, and Hudson K-9 Training Center.