Part 3: So, how far will a $20 lunch budget go?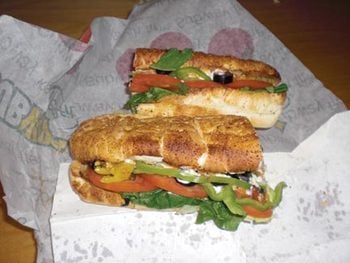 Editor's note: Eating cheaply at work is best achieved by bringing your own lunch. But sometimes even the best Tupperware Troopers leave a home-cooked lunch behind in the fridge. As part of The Telegraph's economy series, we wanted to see what kind of bargains and deals could be found.
We gave each of our interns $20 and told them to eat out for five days. They were asked to go to a different place each day, bring their food back to work and weigh it. Here's what they found. Shawn Cyr got the most food for his cash, Maryalice Gill ate the healthiest, and Dana Smith overspent by 4 cents.
First, my overall goal was to provide sort of a template of things I could see myself eating if I was to budget myself $20 for lunch a week.
I didn't try to eat as cheaply as possible. I didn't want to eat a bag of Skittles one day and a steak the next. I wanted to eat a decent-sized lunch every day that wouldn't leave me feeling hungry and force me to watch the time tick away until I could head home and scarf down leftovers from the night before.
Second, I wanted to allow myself options. If I were truly to try to do this every week, a variety of flavors would keep it somewhat new and interesting.
Third, I didn't intend on getting sandwiches every day, that's just how it turned out.
One thing I did do on purpose was to drink water from the office water cooler everyday in lieu of buying soda or iced tea, as I normally would. This would both help me save money and force me to drink more water, which is never a bad thing.
MONDAY
The chicken salad in the sandwiches from Market Basket weren't bad, and the chips were salty and satisfying. I had different choices for each. The finger sandwiches came in seafood or egg salad, and the chips are available in other flavors like salt and vinegar, and sour cream and onion, among others.
The banana was decent, though yet not fully ripe. This is a hazard of buying a banana to eat immediately. So if you're planning to do this meal, and the bananas are too green for your taste, subbing another piece of fruit would work.
Also, if the three items here don't quite fill you up, another side option would be adding a Cheese Head cheese stick for just 25 cents.
For a combination of size, taste, and cost, I'd rate this meal very highly.
TUESDAY
The dollar menu: Three words that many teenagers and 20-somethings consider sacred.
With the price of so-called "value meals" approaching $7, two or three items off the dollar menu at your favorite fast-food joint can feed you for a fraction of the price.
I knew a trip to the dollar menu would be a good place to go to get a decent amount of food for around two dollars. I ended up going to Burger King because of its proximity to The Telegraph's Hudson office, but McDonald's or Wendy's are options as well.
Although fast food isn't good for you, I elected to go with the Whopper Jr. (no cheese) and the Spicy Chicken Sandwich. Both sandwiches had decent flavor and filled me up.
Though the meal left me feeling slightly less healthy, for the purpose of a quick, cheap, easy lunch, I thought this lunch was OK overall.
WEDNESDAY
Having not visited Quiznos for quite a while, I was unfamiliar with their newer sandwiches, the Toasty Torpedo, the Bullet, and the Sammies. They're offered for $4, $3, and $2, respectively, and come in a variety of menu choices.
First of all, the Torpedo roll is about the width of a hot dog bun. So once the Quiznos employee shoved the turkey and cheese into it, there wasn't a whole lot of room for toppings. With just lettuce, tomatoes, and pickles on top, the bun immediately split in two, leaving a very messy sub.
Though the flavor was good and the price was right, I wouldn't recommend the Torpedo to someone who wants a variety of toppings on their sub. If you'e a meat-and-cheese kind of person, this one might be right up your alley.
In retrospect, paying another dollar for one of Quiznos large everyday value subs might be a better overall value, but if you're pinching pennies, the Torpedo fits the bill.
THURSDAY
Five. Five dollar. Five-dollar foot longs.
As value goes, it doesn't get much better than that. Overall, this had to have been the best meal of the week.
After eating, I felt really full for the first time in a few days. The toppings stayed in the sandwich, as opposed to the Torpedo, and there are many more of them. This was the first time I had the oven-roasted chicken breast, but the Italian herb and cheese bread has been a staple in my family's dinner plans for years.
This was definitely the most food I got for my money all week long. Going into the week, I knew a trip to Subway would be a great way to eat lunch relatively cheaply. Boy, was I right.
Though I might not suggest going the Jared Fogle route, a Subway foot long once a week would be a great way to feed your stomach without emptying your wallet.
FRIDAY
With $5.59 left in my pocket, the world was my oyster. As long as the oyster was in Greater Nashua.
I ended up going to Adamo's Pizza in Hudson and buying, surprise, surprise, a sandwich. An Italian wrap, to be precise.
Though its size couldn't match the Subway foot long, the wrap was definitely satisfying. The layers of meat inside were delicious, and the spinach wrap provided a different element that the other sandwiches had not.
Although I don't think I got the same value with the wrap as I did the day prior and the vegetables inside – just lettuce and tomato – left a little to be desired, it was a decent lunch.
After a week of thrifty dining and with just 19 cents left in my pocket, I headed back to The Telegraph office feeling accomplished, satisfied and, most of all, full.
Cyr's lunches at a glance
MONDAY
What – One pack of chicken salad finger sandwiches (two sandwiches per pack), one small bag of Utz BBQ potato chips, one banana
Weight – Sandwiches – 6.7 oz; chips – .8 oz; banana – 5.6 oz; total – 13.2 oz.
From – Market Basket, Hudson.
How much – Sandwiches – $1.99; chips – 25 cents; banana – 16 cents; total – $2.57
TUESDAY
What – One Wopper Jr and one Spicy Chicken Sandwich.
Weight – Wopper Jr – 6 oz; Spicy Chicken Sandwhich – 5.6 oz; total – 11.3 oz.
From – Burger King, Hudson
How much – $2.16
WEDNESDAY
What – One Pesto Turkey Toasty Torpedo sub with Swiss cheese, tomatoes, pickles and lettuce.
Weight – 13.6 oz.
From – Quiznos Sub, Nashua
How much – $4.36
THURSDAY
What – One foot-long Oven Roasted Chicken Breast sandwich on Italian Herb and Cheese bread with Swiss cheese, tomatoes, lettuce, green peppers, spinach, olives, pickles, green peppers, jalapenos and banana peppers with mayonnaise and hot pepper relish.
Weight – 22 oz.
From – Subway, Hudson
How much – $5.40
FRIDAY
What – One Italian wrap with provolone cheese, ham, salami, lettuce, tomatoes and mayonnaise.
Weight – 10.8 oz.
From – Adamo's Pizza, Hudson
How much – $5.40
TOTAL – $19.89, or $4.49 per pound