Part 2: So, how far will a $20 lunch budget go?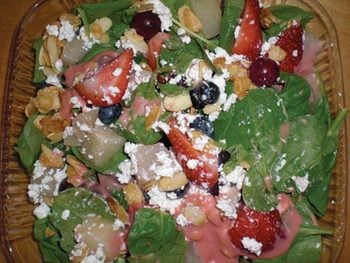 Editor's note: Eating cheaply at work is best achieved by bringing your own lunch. But sometimes even the best Tupperware Troopers leave a home-cooked lunch behind in the fridge. As part of The Telegraph's economy series, we wanted to see what kind of bargains and deals could be found.
We gave each of our interns $20 and told them to eat out for five days. They were asked to go to a different place each day, bring their food back to work and weigh it. Here's what they found. Shawn Cyr got the most food for his cash, Maryalice Gill ate the healthiest, and Dana Smith overspent by 4 cents.
Spending $20 a week to go out and get lunch can be tough in itself. Doing it in a way that won't lead to a "Supersize Me" remake seemed that much more daunting.
This week, with little to no healthy eating history under my belt, I decide to take up the challenge.
When it comes to health food, I'm invested in the stereotypes: It tastes like cardboard, it doesn't fill anyone up, and it breaks the bank.
I do remembered Trader Joe's specialty groceries accommodate those that go out of their way to eat healthy. That's why I drove 10 minutes out of my way – just over the border to Tyngsborough, Mass. – to see what I could get cheap on the first day of our experiment.
Picking through soymilk and organic salsa lead me to this diamond in the rough: Trader Joe's "Reduced Guilt" Baked Ziti. It may not sound like a health nut supreme, but I'm taking this one step at a time. Just 5 minutes in the microwave left me a mouthwatering pile of pasta, mozzarella and marinara sauce "free from artificial gums and stabilizers" for 320 calories and 7 grams of fat.
The biggest perk? Massachusetts' tax-free groceries cost me $1.99 for the cuisine, busting all the stereotypes. Great taste? Check. Satisfied hunger? Check. Cost-effective? Check. I finished this lunch feeling fantastic.
Tuesday
I decided to try something quicker today, so I went with your token fast food – McDonald's. Surprisingly enough, you can find low-calorie meals at Mickey D's for a small cost. Everyone knows the dollar menu is a great resource for bargain burgers. But have you ever tried their dollar menu "Fruit 'n Yogurt Parfait?" I hadn't.
I went to a McDonald's probably seven minutes from The Telegraph's Hudson office and spent two minutes in the drive-thru. With my $1 parfait, I picked up a $1.25 water bottle, handed the cashier $2.87 and drove merrily on my way.
When I got back to work to check out my purchase however, I was unpleasantly surprised. The seemingly fresh strawberries and blueberries swirled with Nature Valley's low-fat granola in chilled low-fat yogurt only scaled in at 6.2 ounces. My Dasani water bottle towered over the measly cup – which is only 160 calories total and 2 grams of fat.
The fruit-crunch combo was great but I swallowed it down in 3 minutes flat. The price fit the bill, but as for the portion size . . . I'm not exactly lovin' it.
Wednesday
My family has spent countless mornings at Bagel Alley to reward getting through Sunday Mass. To reward myself for getting through half a workday, I decided Bagel Alley would be my Wednesday destination.
"Everything" bagels and cream cheese are typically my guilty pleasure, but I was convinced I could achieve the same contentment for far fewer calories. All Bagel Alley bagels are high-fiber, fat-free and cholesterol free, though the carbs can be killer. Luckily, I discovered their whole-wheat "Health" bagels could help my cause.
For just $2.50, I ordered a fresh, thick whole-wheat delight with a dash of peanut butter. The bagel chefs are extra generous with their spreads, so make sure you order your peanut butter "light." My bagel sat a couple of minutes in the toaster before soaking in its peanut wave.
I brought it back to work, unwrapped it, and embraced the crunchy toasted shell and soft interior – fresh, warm, peanut butter bliss. Whole grain bagels average about 300 calories, with a tablespoon of peanut butter rounds out to about 385 – not bad, not bad at all.
Cheap "Health" never tasted so good.
Thursday
Chicken noodle soup is the age-old antidote for whatever sickness one might suffer. When you're feeling sick of work though, there is still nothing better than that steaming cup of broth and noodles to settle your achy symptoms.
That's why I chose the "savory soup" at Craving's Cafe and Gift Shop for Thursday's mid-day meal. Craving's hearty, healthy chicken noodle "soup of the day" did not disappoint.
The hot, flavorful broth flowing with plentiful chicken, noodles and vegetables, was just what I'd hoped it would be. Complete with Hilltop Hearth Oyster crackers, it made a crunchy, scrumptious soup for only $3 and roughly 200 calories (plus 60 calories per oyster cracker package).
The best part of all: I still have $9.64 to spend on lunch tomorrow. As if Fridays could get any better.
Friday
I usually eat salads to punish myself, but today I chose Seedling Cafe creation to indulge after a week of restraint.
Four days of low cost, healthy food paid off in a big way with my selection. In fact, I had a hard time swallowing the "Special Salad 1" slow enough to record its savory perfection. Who knew a $7.35 healthy treat could be so fulfilling?
When I walked into the Seedling Café and examined its "specials" menu, I found my mouth watering at the description of "Salad Special 1." After seven or eight minutes waiting for the chefs to throw together the fresh spinach-fruit-almond-goat cheese combination, I carried my healthy, low-cost trophy back to the office triumphantly.
My salad had all the makings of a balanced meal. In terms of taste and size, it tips both scales compared to everything else I've consumed this week. Needless to say, I've proved my health qualms wrong. It can be good for the taste buds, great for any rumbling stomach, and pleasing to your pocket – did I mention I have $2.29 left to burn?
At the end of the week, I realized that limiting lunch to $20 a week is a lot easier than it sounds. It's painless enough to hit up fast food joints to save a couple of bucks but, in the long run, the penalizing pounds may not be worth it.
It is possible to munch on fresh fruit options and gourmet soups and salads at little cost to your wallet and your waste. So before rushing out at noon to gratify a growling gut, take a step back and brainstorm where to get cheap quality. It worked wonders for me.
Plus, you'll rediscover little cafes in the nooks and crannies of Nashua that you forgot you knew.
Gill's lunches at a glance
MONDAY
What – "Reduced Guilt" Baked Ziti – warm ziti drizzled with rich mozzarella and tomato sauce
Weight – 10.8 oz
From – Trader Joe's, Tyngsborough, Mass.
How much: $1.99
TUESDAY
What – Fruit 'n Yogurt Parfait – Dasani water
Weight – 6.2 oz parfait, 16.9 fl oz water
From – McDonald's
How much – $1 parfait, $1.25 water +tax = $2.87
WEDNESDAY
What – "Health" Bagel with light peanut butter
Weight – 6.6 oz
From – Bagel Alley
How much – Bagel + Peanut Butter: $2.29 +tax = $2.50
THURSDAY
What – Chicken Noodle Soup & Hilltop Hearth Oyster Crackers
Weight – 12.2 oz
From – Craving's Café and Gift Shop
How Much – $2.75 +tax = $3.00
FRIDAY
What – "Special Salad 1" Seedling's creamy strawberry dressing mixed up with organic spinach greens, fresh strawberries, fresh blueberries, red grapes, poached pears, honey toasted almonds and goat cheese
Weight – 16 oz
From – Seedling's Cafe, 9 Water St. Nashua
How Much – $6.75 +tax = $7.35
Total – $17.71 or $5.47 per pound