Parkway approval means numerous property owners must make way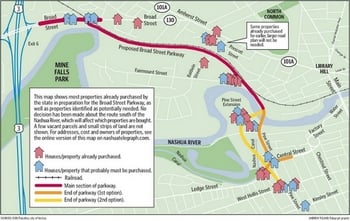 NASHUA – James Hall rested his stocky arms on the white railing of a farmer's porch that complements his modest home.
Hall recalled how, when he designed and built the Cape-style house in 2005, the Broad Street Parkway wasn't supposed to come near his 11 Baldwin St. property.
Now, the proposed two-lane, cross-city road apparently will cut through the woods that sit about a football field away from his bedroom.
"If they want to give me 324,000, I'll take it," Hall said Thursday of an offer that would barely exceed the $320,000 assessed value of his property.
His reaction had significance. It came on the heels of Tuesday's aldermanic vote that approved a $37.6 million bond for the parkway's design and construction. The vote shifted a project that has been discussed and debated for about 40 years from the hypothetical to near-reality.

Click on this map to see details about each purchase property (blue "pin") or potentially purchased property (yellow "pin"), including price, owner and other information.


Home and business owners on lots in the pathway of the parkway's projected route now have to seriously consider how a major roadway could affect quality of life, changes in property values and sales.
If Hall stays put, the cars and trucks that use the parkway as a means to connect Broad Street and downtown will rumble within sight and earshot of his retirement nest. Hall, a former longtime employee of the Division of Public Works, doesn't oppose the parkway and will accept it next to his home as long as its construction doesn't require drastic alterations to his property.
Hall will also consider selling, but he said the only time the state reached out to him was to discuss a pipe in his front yard. There has been no buyout offer, he said.
That seems to bear out on a state-issued Broad Street Parkway report: Hall's house and half-acre lot aren't being considered for eminent domain. Incidentally, the duplex across the street from Hall does appear on the Department of Transportation acquisition list.
That list prompted surprise, resignation, cheers and jeers when The Telegraph showed a copy to several people whose properties have been identified for acquisition by the DOT. Those property owners said the list was the first official recognition that their land and buildings were in the right of way.
Brothers Ken and Chick Forrence, co-owners of Gate City Fence, were caught off guard. Their immediate reaction was concern about the future of their business, which dates to 1947 in Nashua and since 1967 at its Ledge Street location.
Ken Forrence said he isn't necessarily opposed to the project, but would oppose any land acquisition that would put the future of his business in jeopardy. Much of that land is used for storage and deliveries, he said.
"I just don't want them to run me out of business," he said. "We're an asset to this neighborhood."
After looking at the prices the state had estimated for reimbursement, Forrence said it wouldn't be enough. The only way for it to work would be for the city to pay for a complete relocation of the business, he said.
"We need to get together with them and make land transfers, not money transfers," he said.
The state is helping the city acquire properties that fall within the right of way of the parkway, DOT municipal highways engineer Nancy Mayville said. It's the responsibility of city officials to decide which properties need to be bought, she said.
More than two dozen parcels have already been purchased by the state, according to the DOT list. Those acquisitions were made in the "name of the city," Mayville said.
Several of those parcels are no longer needed because the road design was shrunk from four to two lanes to lower costs. Several more parcels might not be needed depending on where the road travels. If the city decides already-purchased properties aren't needed, they will be sold and the proceeds will benefit the project, Mayville said.
Up to 22 more parcels have been targeted for acquisition, with some purchases hinging on final design, according to the DOT list. The properties include those owned by the Forrence family and a house and automotive garage owned by Norman Parslow.
"Why?" Parslow asked when shown that his properties at 73-75 Broad St. are "needed," according to the list. "I don't think it's ever going to happen."
Parslow has owned and operated Gate City Tire at that Broad Street spot – between the off-ramp of F.E. Everett Turnpike and Dairy Queen – since 1966. The project had stalled for so long that Parslow finally came to the conclusion the parkway wouldn't be built.
"I stopped going to the meetings 10 years ago," he said.
But with the approval of the $37.6 million bond, Parslow now recognizes the possibility that the parkway could be built – just not until he retires. Construction could start in 2011, but environmental studies and a final corridor design are needed first.
Parslow holds the views of homeowners who would see the parkway run through their neighborhoods and who have shared their objections with aldermen. They believe the road won't accommodate as much traffic as proponents suggest, that it will diminish quality of life and that it's meant solely to benefit downtown commerce.
"The people didn't have a say in it," Parslow said.
Across the street, Kristyne Hayden said she and her husband, Fred, are "the last to know anything" – even though their property has been identified for eminent domain. The Haydens own Nashua Outdoor Power Equipment and the four-tenant commercial building that spans 44 Broad St.
When the Haydens bought the building in 1995, they knew the parkway could ultimately close their doors, so they opened a second power equipment business on Amherst Street. A few years ago, the state made an offer on the property, but then retracted it, Kristyne Hayden said.
The back and forth of the project has been "very frustrating," she said. Yet, "if they gave us the right money, it won't be bad," she said.
Robert Zimmerman has lived at 33 Fairmount St. since 1995 with his wife, Sarah. His house was once on the list of properties that needed to be acquired, but now that the project has been scaled down, it's no longer needed, he said.
Because the proposed parkway has been pared from a four-lane road to two lanes, Zimmerman said he didn't think it would have as significant an impact on his neighborhood. Zimmerman said he also supports having a second crossing over the Nashua River. Access to Mill Yard Technology Park is also important, he said.
Aaron Bagshaw couldn't agree more. He is president of W.H. Bagshaw Co., a domestic and international supplier of pins, pin assemblies and wire products that has been in his family's hands since 1870.
"We're excited. It's a boon for Nashua. It's economic development. It's the future of the city," Bagshaw said at his company's 1 Pine St. Extension facility.
The parkway will provide easy access to the millyard and downtown, alleviating traffic congestion and providing the spark for people to explore the city, Bagshaw said.
The DOT list estimates it needs part of Bagshaw's property. He guesses it will be either the front or rear section of his parking lot, where the parkway could dump into the millyard.
It's a sale Bagshaw can't wait to make.
"We're fired up to see it," he said.