Parents grill principal on gun incident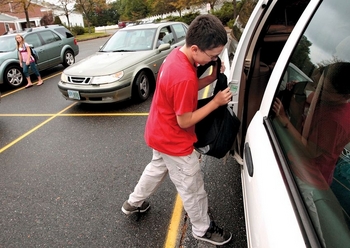 NASHUA – After giving Pennichuck Middle School Principal Paul Asbell an earful about a gunpoint fight near the school, parents at Wednesday night's PTO meeting focused on trying prevent further violence, including parents volunteering to monitor one of the routes kids use to walk home.
Asbell opened the meeting by apologizing for not notifying parents until after the media started reporting the incident.
The assault took place after school Sept. 19 on the footpath just over the pedestrian bridge that crosses Henri Burque Highway, police said. A student armed with a pellet gun threatened the 13-year-old victim to fight a second student or get shot, police said.
Three students have been arrested and will face charges in juvenile court.
On Wednesday, parents had a number of questions for Asbell, including why he didn't notify them sooner and what's being done to prevent a similar incident from happening again.
"To find out what these kids have to go through now, I was ready to put my house on the market," said Chris Fiorentino. "This time it was a pellet gun. What if next time it's a .40-caliber? Enough is enough."
Asbell said when administrators heard about the fight, they immediately went to break it up, but the students who had gathered to watch scattered. Later, when he heard a gun had been involved, the school contacted police and launched its own investigation, Asbell said.When the student who brought the gun to the school confessed, the superintendent's office took over any further disciplinary action.
To protect the privacy of everyone involved, Asbell decided not to send a letter to parents – a decision he regrets, he said.
"We do take these issues very seriously. We fortunately don't have to deal with these situations very often," he said.
Asbell said he's talked with Superintendent Christopher Hottel about what the school can do to increase safety on the path, including installing cameras or stationing a crossing guard there.
The issue is complicated, he said, because the path isn't school property.
"It is something we take very seriously, but I don't have a solution, not an immediate solution," he said.
A letter explaining what had happened was sent home with students yesterday. Hottel wrote an e-mail to school board members explaining the incident Tuesday.
Louise Stevens said something should be done because the fight isn't a one-time event. The area has always been a trouble spot.
"It happens all the time. It's not an isolated incident," she said.
"It's been happening since the school was built."
Nashua Detective Sgt. Frank Bourgeois was also at the meeting and said he would try to have someone posted on the walkway after school in the short term. He pointed out though, that with an officer there, troublemakers will just find somewhere else to cause trouble.
Heather Lizotte pointed out, though, that many kids have no choice but to use the enclosed walkway and path either to reach their parents parked across the road or to walk home themselves.
A few parents said they planned to station themselves on the walkway starting this afternoon to keep an eye on things.
"Where do you want me tomorrow? What can we do?" asked Kerry Brady.
Several parents also had questions about what discipline the students would face. John Burruto, the district's director of student services, said the students could be suspended for up to 20 days and the Nashua Board of Education can vote to expel them for up to a year.