Panel says affordable housing needed to keep town's young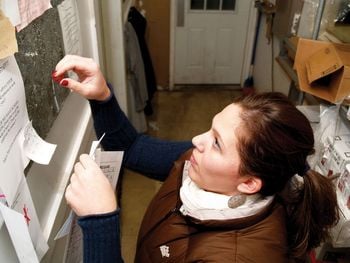 Advocates say work-force housing isn't welfare, Section 8 or subsidized housing.
"The income criteria is (up to) $87,400 for the Nashua region, so we're not talking about welfare people here," Hollis planner Mark Fougere said. "We're talking about providing housing for people who make the median wage in our community."
Sometimes it's possible for developers to use subsidy programs to bring down the cost, according to a fact sheet by the Greater Nashua Workforce Housing. But that isn't a standard component of work-force housing.
Instead, the general idea is to allow developers to build the kind of housing that costs less, such as smaller houses on smaller lots, as well as condominiums, duplexes or inexpensive rental units.
One common obstacle is that in many communities, zoning rules don't allow those kinds of homes to be built because of large minimum lot sizes or other restrictions. As a result, the region's housing has become less and less affordable for young people and others making starting or even median incomes.
Young people are leaving to seek their fortunes elsewhere, and New Hampshire's population has aged accordingly: The median age of New Hampshire residents has gone from 36 to 40 since 1990, according to "Communities and Consequences," a documentary based on research by demographer Peter Francese.
And that isn't good for New Hampshire, advocates and many planners say.
"That's a very serious problem we have to contend with," said David Preece, executive director of the Southern New Hampshire Planning Commission, "because our industries are in need of these younger workers, and . . . the large majority of the graduates from our colleges are leaving because they cannot afford housing in New Hampshire."
It's hard to attract new businesses to the state when the work force isn't there, Preece said.
A 2005 report of the New Hampshire Workforce Housing Council concluded a shortage of these units cost the state 2,800 jobs and $412 million in lost sales annually.
And dimming the state's economic development prospects isn't the only adverse effect of the aging population, Preece said.
"As our population continues to age, the demand for services, for health care, will continue to increase, and who's going to pay for these services?" Preece said. "If you let the population continue to age, you know, it's sad, but there would be many, many problems."