Panel backs bill to create alert for missing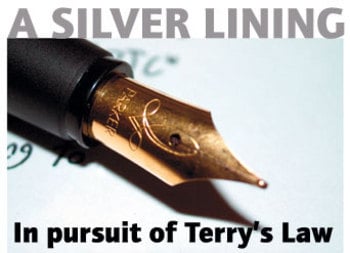 EDITOR'S NOTE: The Telegraph has chosen this legislation to highlight a bill's life through the Legislature, a project that includes a series of stories that follows each step of the legislative process and the people behind it.
CONCORD – A state Senate panel endorsed creating a new alert to help locate mentally impaired, older citizens or those of any age with developmental disabilities who go missing.
Wednesday's 5-0 recommendation by the Senate Judiciary Committee came over the objection of the radio and television broadcasters' lobby, which charged the alert was premature and did not yet match an emergency system the Federal Communications Commission so tightly regulates.
State Sen. Bette Lasky, D-Nashua, said broadcaster concerns are covered in rules the Department of Safety have to write out, which also spell out how to verify the missing person and how a local police report is confirmed.
"All these issues will be worked out. This is a very good bill," Lasky said.
Sen. Robert Letourneau, R-Derry, agreed.
A Silver Lining – In pursuit of Terry's Law
"We have seen time and again our harsh winters have taken their toll and people have gotten lost in the elements. We really may save some lives with this," Letourneau said.
The only change the Senate Judiciary Committee recommended to the House-approved bill is that it should cover those 55 and older with a mental impairment, rather than 65 and older, as the original bill states.
"Many before they turn 65 start to show signs of Alzheimer's or dementia so the amendment would cover more people, and I think is important," Lasky said.
The full Senate is expected to take up the amended bill next week.
Mary Stipe, of Merrimack, and Anne Conceison, of Amherst, came up with the idea of a Silver Alert program in memory of their mother, Teresa Canty Cahill, a victim of Alzheimer's disease who died last July.
The House of Representatives had approved it (HB 279) in late March on a voice vote without debate after removing Silver Alert from its name.
"I'm so thankful to the Senate committee for seeing the necessity of this bill," Stipe said after the committee action Wednesday. "And I'm so proud that New Hampshire could be on its way to joining the states that are on the forefront of providing care, security and dignity to people who deserve it but don't always get it."
The bill was written to dovetail with the Amber Alert that Congress passed in 2003 to automatically send out alerts over all radio and TV stations in a home state when a child is abducted.
There are 12 states that have adopted missing senior alert laws and New Hampshire is one of at least five other states taking up the issue up this year. Congressman Lloyd Doggett, D-Texas, has offered a federal bill (HR 632) to create one nationwide. That bill has made it through the House.
This week, the Minnesota Legislature sent to Gov. Tim Pawlenty a bill that would require a law enforcement alert for missing adults up to age 21 and for older adults who disappear under suspicious circumstances.
Edward Brouder, a longtime radio host representing New Hampshire broadcasters, said that while the Amber Alert is one of 56 settings for an emergency, this missing alert is not. He urged the Senate to wait until Congress acts.
The bill's prime author state Rep. Peter Batula, R-Merrimack, noted no radio or television station was forced to air the alert and there was no guarantee the U.S. Senate would act on this.