Pandemic protocol: City prepared to handle worst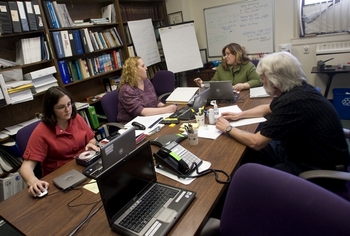 NASHUA – The city's Division of Public Health mobilized an action team five days ago when news of swine flu arose to prepare for the possibility of a pandemic.
The effort has Nashua health officials working with area hospitals and municipalities to prepare for any potential outbreak of swine flu. On Thursday, two probable cases of the virus were announced in New Hampshire.
The city doesn't have a stockpile of antiviral medication, but has protocols in place if the federal and state governments start dispersing drugs to the public, health officials said Thursday. Other protocols will be followed if the swine flu strikes the Nashua area, just as those steps would be followed for any other public health emergency, officials said.
A large part in preparing for the best and worst of swine flu is message dissemination: telling the public to take the right steps to ward off the flu.
Flyers with tips on flu prevention are being dispersed to various municipal agencies and the public access television stations will broadcast the information, said city Public Health Preparedness Coordinator Patty Crooker.
Those simple steps include washing your hands often; covering your mouth and nose when sneezing; avoiding touching your eyes, nose and mouth; avoiding contact with people who are sick; and staying home if you are sick.
"Everybody has the power within themselves to keep this in check," said Ashley Conley, a city epidemiologist.
Those tips and other information will appear on the city Web site, Crooker said. As of Thursday, the city's main page offered only a link to state Department of Health and Human Services and the federal Center for Disease Control and Prevention.
The city declared a level 1 public health emergency Monday and mobilized its response team: the Multi-Agency Coordination Entity.
Level 1 calls for MACE to conduct surveillance of the posed threat. Since then, a level 2 emergency went into place, meaning the team ensures that protocol is followed.
MACE discusses the health threat with the agencies of Nashua and 12 area towns, and provides any assistance, Crooker said. The team also touches base with area hospitals, and sees if they need anything, she said.
Having public schools on vacation this week has helped reduce the workload, Conley said. The team is preparing guidance for educators for when school reopens next week, she said.
If swine flu were to spread greatly and antiviral medication was in demand, MACE would establish a center – or "point of dispersal" – to keep people from overloading emergency rooms and doctors offices. A triage emergency center would also be opened if swine flu struck the region hard, the group said.
These actions would be taken for any public health crisis and are practiced by health and emergency response officials, Crooker said.
On May 16, for instance, an anthrax drill is scheduled.
This stage of the swine flu pandemic is much like what happens when a hurricane threatens a region, Crooker said.
"You have a period of time when you're preparing and monitoring," she said. "If it escalates, then you need a response."
People can call the state DHHS hotline with questions about swine flu so as not to overload the city system. The toll-free number is 1-888-330-6764.