Pair remain jailed in Mine Falls beating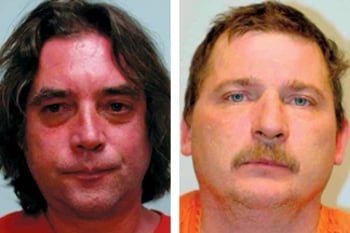 NASHUA – Daniel Kovich has been homeless before and he will be homeless again if he doesn't make bail soon, his lawyer told a judge Wednesday.
Kovich, 48, of 24A Hanover St., has been jailed since his arrest April 25 on charges that he and Daniel Straitiff, 48, of 99 Pine St., attacked and beat a homeless man in Mine Falls Park.
The two men are accused of dragging Mark Carter from his tent in the "Maple Island" encampment and beating him with a wooden bat and their fists.
Carter was able to walk out of the park, call for help and identify his attackers, and was then treated for severe head injuries, police have reported.
Carter has since been discharged from the Lahey Clinic in Burlington, Mass., a hospital spokeswoman said Thursday. The Telegraph was unable to find any information on his current whereabouts or condition.
Both Kovich and Straitiff saw their bail sharply reduced after agreeing to waive probable cause hearings this week in Nashua District Court. Both men remain jailed, unable to post $10,000 bail.
The two men told police they'd gone to the encampment looking for Straitiff's girlfriend. It's not clear why they attacked Carter.
Kovich has been treated for bipolar disorder for the past three years through Community Council, his lawyer, public defender Ed Cross, told Nashua District Court Judge Michael Ryan Wednesday. He lives on $900 a month Social Security disability payments, but will lose those benefits and his apartment if he remains incarcerated, Cross said.
Medical staff at the jail also have told Kovich they will be changing his prescribed medication, though there is no apparent medical reason to do so, Cross said.
Though Kovich has a history of failing to show up in court, Ryan agreed to reduce his bail, in part because Straitiff's bail also had been reduced to $10,000 after he waived his right to a probable cause hearing on Monday.
Both men are charged with first-degree assault, and each could face up to 7½ to 15 years in prison if convicted. Their cases will now be moved over to Hillsborough County Superior Court.