Pair accused of beating man living in park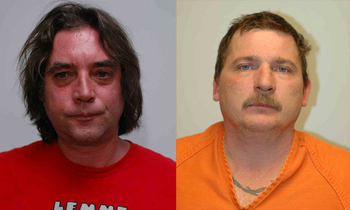 NASHUA – A homeless man was dragged from his tent early Saturday and brutally beaten by two men, one of whom had himself been homeless for several years, police said.
Mark Carter, age unknown, was able to walk from his encampment in Mine Falls Park to nearby Keystone Hall after the assault Saturday morning.
Carter was taken to the Lahey Clinic in Burlington, Mass., for treatment and evaluation of severe head injuries, including bleeding on the brain, according to police and court records.
Carter was able to point out the men who had attacked him, as they were still in sight, walking down Pine Street, when he reached Keystone Hall, police reported.
Daniel Straitiff, 48, of 99 Pine St., and Daniel Kovich, 48, of 24A Hanover St., both were arrested on first-degree assault charges, and held for arraignment Monday in Nashua District Court.
Straitiff faces a single count of first-degree assault, while Kovich is charged with two counts. The charges carry a maximum of 7-1/2 to 15 years in prison, and both men remain jailed while awaiting probable cause hearings next week.
The motive for the attack is unclear, Detective Lt. George McCarthy said Monday.
Both Straitiff and Kovich spoke with detectives after their arrests, and each blamed the other for initiating the attack. Both men said they had gone to the "Maple Island" encampment looking for Straitiff's girlfriend.
The homeless encampment is located alongside Horseshoe Pond, beside the mill yard entrance to Mine Falls Park. The city tolerates the encampment, sending a cleaning crew out periodically, collecting trash that residents leave bagged by the park entrance.
Agencies working with the population estimate there are 500 to 600 homeless persons in the Nashua area, and the encampment is particularly popular amongst those whose drinking habits keep them from using the city shelter.
Several boys on bicycles coming out of the area Monday said it was vacant, and had been cleaned up considerably from its usual state. The boys said they were acquainted with a white-haired man living there, whom they knew only as "Mark," and occasionally brought him food or helped him gather firewood.
McCarthy didn't identify the victim, but said the man was asleep in a tent when he was attacked. The two men kicked, punched and beat him with a wooden handle of some sort, which police later found at the scene, police reported.
"They went in there, they grabbed this guy. They pulled him out by his ankles and they proceeded to beat on him," McCarthy said.
Carter identified Kovich as the man who pulled him from his tent, however.
Kovich himself was homeless for several years, he told a reporter in December 2007 at a vigil outside city hall marking National Homeless Person's Memorial Day.
At the time, Kovich said he had been homeless for over two years, after losing his job.
Kovich has a prosthetic leg, and suffers from bipolar disorder and panic attacks. He said he had been forced to learn survival skills such as where to find free meals, and sleeping in Laundromats.
"The name of the game is survival," Kovich told The Telegraph. "It's hard being homeless."
Straitiff also has made the news before, in January 2008, when residents of a home on Mason Street credited him with alerting them to a fire in the house.
A homeless veteran named Mark Carter was profiled last year during Tthe Telegraph's series on homelessness in Nashua, but it's not clear whether he is the same person who was attacked Saturday.