PainCare restores patients' quality of life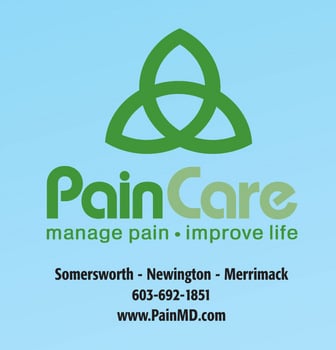 About PainCare
PainCare is the leading medical practice in New Hampshire dedicated exclusively to pain management. PainCare opened its doors in Somersworth, NH in 1992, expanded to Merrimack in 1998, and opened its Newington office in 2008. PainCare's approach to pain management includes the most current and advanced therapies, surgical/interventional technologies, comprehensive medication management and complementary medicine.
On staff is a team of caring and concerned professionals attuned to the needs of individuals living with pain, who are passionate about easing their patients' suffering and restoring quality of life. PainCare has the largest pain center support staff in New England, with 13 full-time providers—physicians, physician assistants and nurse practitioners—who are trained specifically in pain management, yet derive knowledge from a rich assortment of professional experiences and backgrounds.
PainCare's facilities include well-equipped operating rooms for implants and nerve blocks, and several treatment areas and private consultation rooms. The Somersworth center's on-site physical therapy and laboratory allow PainCare to offer convenient care and shorter wait times. Providers have access to state-ofthe- art, high-tech medicine and record keeping. If there are proven and effective new pain treatments out there, PainCare is using them.
Merrimack Facility Now Staffed by MD Full-Time
PainCare's Merrimack office is now staffed full-time by Dr. David Tung. As a pain management physiatrist, Dr. Tung's goal is to alleviate pain in order to maximize functional recovery. "My patients can get back to living their lives instead of being preoccupied with pain." Dr. Tung believes that treating pain, especially chronic pain, with medications alone is not beneficial. "Pain is multifaceted, usually having a specific "pain generator," a generalized central nervous system response to pain, a psychosocial component, and sometimes a related physical impairment. To effectively treat pain, we must address all of these components. As every patient's pain history is unique, the treatment plan must be individualized."
Dr. Tung is aggressive with diagnosis because he considers a clear diagnosis essential for effective treatment. "Too often, a nonspecific diagnosis of 'back pain/strain' or 'chronic pain' is given, resulting in nonspecific treatment, which in turn leads to unsatisfactory results. Using diagnostic injections, imaging tests, and electrodiagnosis in addition to the clinical exam, we can evaluate bones, joints, muscles, tendons, ligaments and nerves in order to make a clear diagnosis and develop a specific treatment plan. I strongly believe in patient education as it is essential for patients to understand their diagnoses along with the rationale for treatment. This enables my patients to be active participants in their medical care, rather than passive recipients of pills and injections."
New Breakthrough Procedure to Help Chronic Pain
Occipital Neuromodulation is a promising new treatment offered by Dr. Joshua Greenspan at the Somersworth and Newington locations. This innovative procedure treats diagnoses such as migraines, fibromyalgia, RSD, traumatic brain injury and other types of chronic pain. The technology used is a small, implanted device that emits an electrical impulse, which has been used to treat chronic back pain for over forty years. What Dr. Greenspan practices is a technique by which the same device is used in the occipital region of the scalp instead of in the lower back, and can treat pain in all areas of the body. "But it's not experimental," Dr. Greenspan reports. "It has been tested and proven and is approved by the FDA and approved by Medicare. The technology is tried and true. It's the application that's new."
The results of this procedure have been extremely successful. Articles have been published about Dr. Greenspan and Occipital Neuromodulation in Business NH Magazine, the Atlantic News, Fosters Local Experts and the Union Leader. More information and patient testimonial videos are available at
www.PainMD.com.
If you or a loved one are in pain, call PainCare for your appointment today 603-692-1851.