Packaging company sets up in shuttered city plant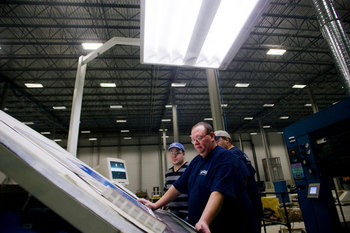 From the street view, the massive blue plant on Northwest Boulevard still looks desolate. There's no sign, no grass. But a trip around the back of the building reveals a parking lot with several dozen cars. Inside, past an empty receptionist's desk and through a winding hallway that smells like fresh paint, the whir of a printing press confirms it: After eight long years, there's finally life here.
Two C Pack Systems, a specialty packaging company, has moved into the long-vacant Corning plant off Amherst Street following a whopping $20 million investment into one of the largest commercial buildings in Nashua.
This is particularly good news in such a bleak economy, with construction at a near standstill and few businesses daring to expand.
Until this fall, the 100 Northwest Blvd. plant had never been occupied, despite a brief but celebrated promise nearly a decade ago to boost the local economy. In 2000, Corning broke ground on what was to be a world-class fiber optics plant, but plans unraveled mid-construction when the dot-com bubble burst and Corning's telecommunications business tanked. The plant was never completed and eventually sold.
But Two C Pack, which makes the kind of decorative boxes in which your Lindt chocolates or bottle of Bacardi are sold, did more than just put up dry wall to reinvent this shell of a building.
It paid meticulous attention to creating one of the few environmentally friendly plants in a mature and notoriously dirty industry, and boasts that the more than 300,000 square foot plant has no direct reliance on any fossil fuels.
"We're the only folding carton company in the U.S. that can say that," company President Frank Siega said.
For heating and cooling, the building relies solely on a geothermal exchange, a method of extracting heat from water in the ground. The company believes it has one the largest geothermal installations in the Northeast.
It does take electricity to run the exchange system, but the company has offset that use with the purchase of wind power credits.
The plant recycles all of its solid waste, so it does not contribute to Nashua's landfill. It does not produce hazardous chemical waste: When the printing process is complete, any hazardous chemicals are neutralized so that they're safe enough to pour down the drain.
Two C Pack even has an employee whose sole job is to make the business environmentally friendly: Chief Sustainability Officer David Greenhalgh.
At a recent Greater Nashua Chamber of Commerce breakfast, Nashua's Economic Development Director Tom Galligani pointed to the opening of this eco-friendly plant's as a bright spot in Nashua's economy.
But considering the state of the larger economy, it's hard to imagine how – or why – Two C Pack took on such a massive project now. The company spent $8 million for the building, $7 million on the finish work, and $5 million on new machinery and equipment.
Siega explained that the company is "recession resistant." It works primarily with national brands that tend to survive when the economy sinks and produces packaging for the kind of products that continue to sell in tough times: candy, liquor and medical devices are the top three products that go into Two C Pack's folding cartons.
"We still have to be careful, but we have good clients," Siega said. "I think that there will definitely be some growth . . . even in these trying economic times."
Two C Pack had outgrown its old space at 23 Dumaine Road, too. So the company figured it was perfect opportunity to expand and start fresh with an eco-friendly building, something few paper box companies get to do, Siega said.
The company also expects to recoup much of its investment in energy savings over many years.
The plant is fully operational now with 115 employees spanning two shifts. But there's still some work to be done.
Only two-thirds of the building has been finished, with the remaining space left in its shell-like form for future expansion. A metal door in a storage area of the finished side acts as a barrier between those two spaces.
On the other side, there are dirt floors and exposed beams on the giant warehouse ceiling. What looks like it should have been the second floor was never finished, leaving a drop-off that makes it possible to see both floors at once.
The company is also considering making some improvements to the outside, including building a softball field for employees.
Two C Pack came to Nashua from Massachusetts in April 2007 after purchasing local packaging company Lowell Paper Box and consolidating operations into the Dumaine Avenue facility.
But Siega said the company knew right away it would need something bigger. Before purchasing Lowell Paper Box, Two C Pack was an importer of European packaging products. Now, the company is making its own products in Nashua for distribution throughout the United States, he said. Lowell Paper Box made more standard packaging products such as the boxes used to package movie-theater candy.
Two C Pack purchased the building early this year.
Corning Inc., a company best known for its cookware, first announced plans in September 2000 to spend $225 million on a fiber optic plant on a 55-acre lot near Amherst Street.
The company broke ground in November, but by March 2001, Corning had announced it would indefinitely postpone plans to staff the facility in light of a slowdown in the telecommunications industry.
By July 2001, Corning said it no longer planned to open the facility.
In 2003, Boston-based Liberty Properties purchased the incomplete building and surrounding 55 acres for $6 million.
The real estate firm immediately sold 12 acres to Bellavance Beverage, which built a distribution center. The firm still owns 9 acres.