Outlet fight draining for all involved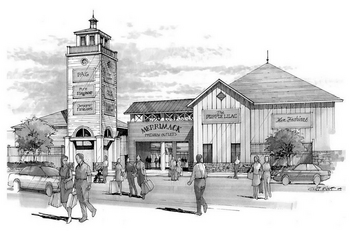 MERRIMACK – Chelsea Property Group's file in the Merrimack planning department makes the Oxford English Dictionary look like a pamphlet.
In fact, community development Director Walter Warren said, at least one entire filing cabinet will be dedicated to the reams of documents associated with Chelsea's outlet mall, which was approved Tuesday, nearly four years to the day after it was first introduced.
"I shudder to think about the number of trees that have been killed in the process," Warren joked.
That amount of paperwork makes sense for a project like Chelsea's, which Warren and other town officials agree is the biggest retail complex approved in Merrimack's history. Merrimack Premium Outlets will be 550,000 square feet, with 135 high-end clothing and home-good stores located off Exit 10 on the F.E. Everett Turnpike.
Planning board Chairman Nelson Disco went a step further Wednesday, saying Chelsea's project is the most lengthy he's dealt with in 30 years – and probably the most controversial.
Sure, the developments for Digital, Shaw's supermarkets and Home Depot were complicated, Disco said.
"But this tops them all," he added, mainly because the board went through an extensive permitting process even before the start of a three-month site plan review this summer. "There were sensitive environmental issues and also major traffic issues."
Jamie MacFarland, part of a residents' group opposed to the project but speaking on his own behalf, said the last four years had been "very draining."
"That definitely sums it up," he said. The board, he added, "was probably a little tired of seeing us, too."
Even Danielle DeVita, Chelsea's senior director of development and acquisitions, said the Merrimack project was superlative in more ways than one.
"It was far and away the most regulated I've ever seen in my career," DeVita said. "I am honestly not accustomed to this level of detail and the quantity of material that was necessary for this project."
Indeed, since it was first floated in 2004, the project has undergone a controversial zoning change, a court battle, a long permitting process and a summer-long site plan review.
"It was a very rough, long process," DeVita said. "At the end of the day, it is a great site."
Chelsea is attracted to the 170-acre property because of its demographics, location and the market in New Hampshire, DeVita said. Not once in the four-year battle did Chelsea consider pulling out, she added, even with the recent economic downturn. The company estimates that, from soup to nuts, it will invest $150 million in the project.
"The economy is obviously changed, and it would've been better if we could've started construction two years ago, clearly," she said. "But we're still moving forward with the project, and we're still thrilled to have this approval."
For Chelsea and town officials, there's still a lot of work to do. The board imposed 19 conditions that Chelsea must meet, many before construction begins.
Warren said the town will have a level of oversight with many aspects of the project, including sewer and road issues, building permits, inspections and monitoring.
"The public scrutiny and deliberation of what the project is going to be is over," Warren said. "From my perspective, it's now my job and my department's job to make sure that vision gets translated correctly into what's on the ground. In some ways, my job's just beginning."
State law calls for a 30-day appeal period, but MacFarland said the residents' group was not likely to move forward with court action, even though he was personally disappointed that the board didn't respond to many of his requests for neighborhood protection.
"I don't think we have a case, to be honest with you," MacFarland said. "I don't think its likely that we're going to do anything further at this point, other than to watch construction as it goes on and make the town aware of any problems that arise."
Groundbreaking is estimated for four to six months, DeVita said. After that, the outlets will take 18-24 months to complete – which falls between summer and Christmas 2010.
In the meantime, Disco said he'll be hanging onto his own boxes of Chelsea materials.
"Eventually, I'll probably junk it all and make sure town has a copy for the record," he said. "I'll hold onto it for awhile longer, until the dust settles."