Outlet developer closes on land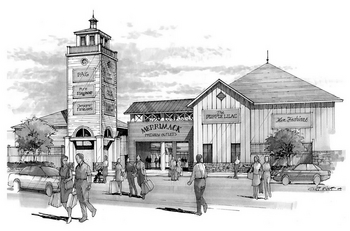 MERRIMACK – Chelsea Property Group forked over $17 million last week to close on land slated for a new outlet mall in Merrimack, although it's still not clear when construction will begin.
The New Jersey-based developer purchased 170 acres off Exit 10 on the F.E. Everett Turnpike from Monahan-Fortin Properties II, LLC, based in Nashua.
Broker Tom Farrelly said the deal may be "one of the largest land sale transactions in the history of southern New Hampshire."
"It's especially unique under the current economic conditions, where a lot of major retail projects have been put on hold – some indefinitely," said Farrelly, executive director of the real estate firm Cushman Wakefield in Manchester, who has been in the business 24 years. "All over New England, there are just deals completely in a coma."
Projects such as Chelsea's "Merrimack Premium Outlets" tend to do well, Farrelly said, even in challenging economic times. Plans call for building 135 clothing and home-goods stores.
"People are more in tune with value shopping," Farrelly said.
Chelsea was attracted to the property because of the local demographics, location and the market in New Hampshire, said Danielle DeVita, Chelsea's senior director of development and acquisitions, last fall.
At the time, she estimated groundbreaking would be four to six months away, meaning March.
That estimate has since been adjusted, but Chelsea officials declined to be specific about a timeframe.
"We have much to do before we begin construction," wrote Michele Rothstein, senior vice president of marketing, in e-mail correspondence to The Telegraph.
"At this stage, our construction team will be working on a timetable and we will be speaking with the merchant community about an opening schedule," Rothstein wrote. "There are many factors that will impact the timing of this project and certainly the current economic climate is one of those factors we will take into account.
"It would be premature to provide a groundbreaking date – we certainly don't want to create any expectations until we know what the real timetable will be."
Rothstein also wrote that closing on the land "demonstrates our commitment to this project and the community – we feel it is an excellent location for the type of upscale outlet centers we build."
That may be so, but town officials had banked on Chelsea's project starting sooner.
Town Manager Keith Hickey said last week that the town thought it would get $100,000 from Chelsea for taking land out of a protected status, along with $60,000 in building permit revenue, but that won't happen this fiscal year.
The gap, Hickey said, will be covered by savings in other areas, including employee vacancies and lower-than-anticipated diesel and heating fuel costs.
In addition, the town may hold off on some spending at the end of the year, but the shortfall in revenue from Chelsea is "not catastrophic" to the town, Hickey said.
"It's not like we were relying on a significant amount of money (from Chelsea) to meet estimated revenue," Hickey said, noting that town leaders had budgeted conservatively. "We'll be alright."
The Merrimack Premium Outlets plan underwent four years of study, debate and controversy.
Opponents, many who are neighbors to the outlet property, were concerned about a host of issues, including traffic, noise, rock blasting, the environment and safety.
Early on, there was a controversial zoning change, followed by a months-long court battle, a lengthy permitting process and, in 2008, a summer-long site plan review process.
Finally, last September, the planning board approved the project, which was a victory for supporters who touted the mall's boon to Merrimack's tax base, job creation and exciting shopping opportunities.
After approval, Chelsea was charged with meeting 19 conditions, some of which have to happen before construction, and others before occupancy. Conditions include allowing a final review of the construction management plan, operation and maintenance plan and various other revised plans; submission of a host of deed restrictions and conservation easements; and payment of outstanding expenses.
Chelsea filed paperwork regarding conditions with the town's planning department in late February. Documents were being reviewed by consultants.
The company estimates that, from soup to nuts, it will invest $150 million in the project, which town officials estimated to be the biggest retail complex ever approved in Merrimack at 550,000 square feet.